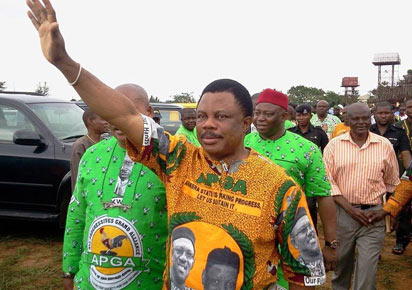 Obiano acknowledging cheers from his supporters at a recent function in the state
By Chimaobi Nwaiwu
Nnewi—No fewer than 30 people sustained injuries yesterday, while goods worth about ten million naira and ten vehicles were destroyed, when traders opposed to imposition of Caretaker Committee at the New Auto Spare Parts market Nkpor clashed with government officials who were said to have been sent by the Anambra State government to inaugurate a Caretaker Committee appointed to run the market.
About ten vehicles parked in  the market premises had their windscreens  smashed, while goods worth about N20 million were allegedly looted by thugs who cashed in on the clash to help themselves by looting goods and drinking bottles of wines displayed for sale in the market.
The traders had, last week, protested against government imposition of Caretaker Committee, suspension of their election, and alleged refusal by the former market administration to render account of over ten years of their stewardship. They  appealed to Governor Obiano to prevail on the Ministry of Commerce, Industry and Trade and the Anambra Markets Amalgamated Traders Association, AMATAS to allow them conduct their election according to their constitutional provision.
The traders accused the former executives of the market, whose tenure of office was said to have expired, of plotting for tenure elongation, by deceiving the government with claim of constitutional crisis to pave way for constitution of Caretaker Committee to run the market.
The market vigilante was said to have been withdrawn earlier before the clash by their leader, who posted them to the market, and was sighted with the government and AMATAS officials that invaded the market for the inauguration of the Caretaker Committee.
Trouble was said to have started yesterday, when the President General of Anambra Markets Amalgamated Traders Association, AMATAS, government officials and operatives of the Anambra State Vigilante,AVS, led by Chinenye Ihenko stormed the market to inaugurate the Caretaker Committee, but were said to have been confronted by some traders who resisted the inauguration of the members they claimed were mostly members of the former executives.
Over thirty traders were alleged to have sustained injuries during the clash, including Mr. Fidel Anyaoha who is a close friend of the Chairman of Board of Trustees, BOT, of the Market, Chief Mike Emerah who was  seen as one of those opposed to the imposition of Caretaker Committee.