Fast rising Nollywood actress, Belinda Effah has continued to prove her mettle in the movie industry since her emergence in 2011. In this interview, the beautiful actress talks about her acting career and sundry issues.
By Juliet Ebirim
What are you presently working on?
I just finished filming a project for Closer Pictures, which was producedby Uduak Oguamanam. It revolves around  family and marital problems. It's a project to look forward to.
Are there particular roles you have an affinity for?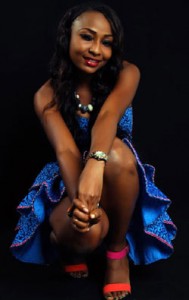 As an actor, I have an penchant for playing various roles. I don't want to be stereotyped, that's why I take up several roles.
Has there ever been a role you feel you didn't interprete well?
As a matter of fact, for every role I play, I always feel like I could have interpreted it better. I am my own critic.
What influences your choice of roles and movies you feature in?
First and foremost, the script. I always look out for a great script. Then I consider the director as  well as the cast and crew.
Have you turned down  any role in the recent  past?
It's inevitable to turn down a role. Sometimes, you have no choice but to turn down some roles probably due to busy schedule, bad script and other reasons.
What's the most challenging role you've played in a movie?
Every role I have played have been challenging for me. I play every role in order for the role to be outstanding irrespective of how simple it might seem. The simpler the role, the more challenging it is for me. Other actors might have played similar roles but I always strive to make mine different. I get very apprehensive each time I get a new script because then I have the task of interpreting it in a unique way.
What has been your relationship with men within and outside the industry?
My relationship with men in the industry is that of mutual respect knowing that we have a common goal. Outside the industry, I don't have control over them. If the man gets close enough, he could either become an acquaintance or friend.
Going down memory lane, what was your first time on set like?
My very first time on set was an experience I will never forget. It was on the set on 'Shallow Waters', a TV series produced by Tope Idowu and his beautiful wife. It starred the likes of  Moyo Lawal. It was my very first time acting professionally. So I was very nervous. I was glad the producers liked my performance despite my nervousness.
How have you been  able to stay scandal-free?
Life for me is simple and I live it simply. I put God first in everything because nothing is really anything. I only want the favor from God and so far that has sustained me.
Have you ever been turned on while playing  love scenes on set?
No, I don't get carried away. I keep it very professional.
Would you date or marry a colleague in the industry?
Of course, I can date or marry anyone whether an actor or not. What's important is that we have mutual understanding and that it's God's  will for me.
Are you in a relationship at the moment?
What difference does it make if I say yes or no? I just want people to appreciate me for my work. Besides, I cherish  privacy a lot and would rather not talk about it. Let's focus on my work and leave it at that.
What's your idea of an ideal man?
My ideal man is a God fearing man.
Would you quit acting for marriage?
No, I wouldn't. Acting is my passion, so whoever I'm going to get married to should be willing to support me.
How have you  been able to hold your own despite the competition in the industry?
The truth is I am my own competition, I don't see any other competition. If I say I'm competing with someone, it's  like saying I expect to be the only actress in Nollywood. On the contrary, actors compliment each other. The sky is big enough for all of us to be relevant. There can only be one Belinda Effah. I strive to surpass my previous glory.
So far, how would you describe your journey into Nollywood?
It has been amazing. I count my blessings and name them one by one. Where I am in the industry today is just by the grace of God. I am very grateful for all the struggles, challenges, breakthrough …that's what makes it a journey. For me, the journey has just begun.
What's unique about you as an actress?
I stay true to myself and the characters I play. If I don't feel it, I can't give life to the character. I always challenge myself to go the extra mile, so I guess that could be  it.
Subscribe for latest Videos