* I have directed Lagos Police Commissioner to do a thorough investigation – Ambode
* Pleads for calm in Ibeju-Lekki
* Police arrest 10
By Olasunkanmi Akoni
Tragedy on Monday, hit Lagos State, as unknown gun men attacked and shot dead, the Managing Director of Lekki Free Trade Zone, Alhaji Tajudeen Disu.
Disu, who was on inspection of the area in the early hours, was said to have been ambushed by his assailants before he was shot dead at close range, leaving him his pool of blood.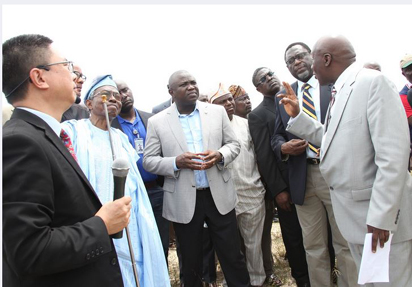 Reacting to the unfortunate incident, Lagos State Governor, Mr. Akinwunmi Ambode, expressed sadness over the loss, even as he appealed to residents of Ibeju Lekki area to give peace a chance by allowing government to carry out projects aimed at bringing development to their communities.
Ambode said, "Under this circumstance, gun shots were used by these villagers within the Lekki Free Trade Zone axis this morning. It saddens my heart and the heart of all of us because this was the person who had been dedicated to the job in the last 10 years, promoting the inflow of investments into Lagos State.
"I have directed the Commissioner of Police to do a thorough job into the killing. I want to appeal to all our people in Ibeju- Lekki to give peace a chance. It is in the interest of all Lagosians that we attract many investors as much as possible to the state, that is what we have been trying to do in the last four months.
"I plead with everybody to remain calm as we get to the root of this unfortunate incident. The only thing that we can appeal to the people is to allow peace to reign, in the free trade zone; that is the only way we can allow more people to be employed in this state.
The governor who expressed conviction that the state was on the right course, added that "I believe strongly on the kind of job opportunities we are bringing into Lagos State."
Meanwhile, the state Police Commissioner, Mr. Fatai Owoseni, while briefing state House Correspondents disclosed that 10 suspects had been arrested so far, promising that the police would get to the root of the matter as investigation is on-going.
He said, "We have so far arrested 10 suspects and the arrest that were made are those that were directly responsible. We are still in the state of operation. More arrests will be made and we will do a very diligent investigation.
"We will ensure that those people behind the dastardly act are caught. We will go after their sponsors and I can assure you that investigation will be carried out as speedily as possible and diligently prosecuted."