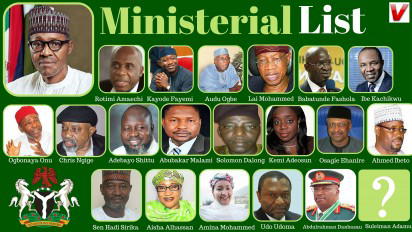 Against the backdrop of criticisms that have trailed some of President Muhammadu Buhari's ministerial nominees, former Governor of Anambra State and a ministerial nominee, Senator Chris Ngige, on Friday, said the composition of the President's team showed that he was committed to leading the country with people of cognate experience.
Ngige who spoke with State House correspondents shortly after meeting Buhari behind closed doors at the Presidential Villa, Abuja, affirmed that of the 21 nominees announced by Senate President Bukola Saraki this week, there was no pushover among them.
Expressing the conviction that the team would help Buhari deliver on his electoral promises earlier than envisaged, the former governor said: "If you look at the list very critically, you will observe that Mr. President wants to go his voyage with people who have cognate experience in governance.
"When I say cognate experience, we are talking of people who have been tested, tried and trusted by their various people.
"So I don't think Nigerians should expect anything less than what Mr. President is already doing from that team.
"The team will help Mr. President to deliver on most of the promises he made to Nigerian people, in fact much more quicker than is even envisaged because I don't think there is anybody on that list that you can call a pushover in terms of government business," he said.
Speaking further, the ministerial nominee, however, threw his weight behind the various criteria outlined by the Senate for the screening of ministerial nominees submitted to it by President Muhammadu Buhari were in conformity with the nation's constitution.
Chairman, Senate ad hoc Committee on Media and Publicity, Dino Melaye, had on Thursday said senators agreed that each nominee must submit proofs of their asset declaration; must have their nomination approved by at least two senators from their states; and must have a clean bill of health from Senate's public petitions committee, among other conditions.
Ngige who stated that he would not lose sleep because of the requirements since they were constitutional, said: "Why should I be bordered? The Senate is populated by elder statesmen and women and what they say they would do is in conformity with the laws of the land.
"That they would use constitutional requirements which I just mentioned to you now; and they would also use Senate rules and they also say they would use tradition: 'bow and go' which is a tradition."