We don't want Fulani herdsmen to graze their cattle at night—Farmers
By Ola Ajayi
Ibadan—A meeting of farmers and Fulani herdsmen was summoned by the Oyo State Commissioner of Police, Mr. Adeleye Oyebade, yesterday, to checkmate the cold war between the two groups.
While speaking on behalf of other farmers from Saki West Local Government at the meeting which was well attended by the stakeholders, a representative of the farmers, Mr. Owoade Idowu, said: "We don't want the Fulani herdsmen to graze their cattle at night. The CP should also prevail on our traditional rulers to stop accepting the herdsmen into areas where crops are grown.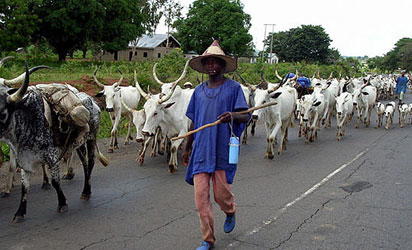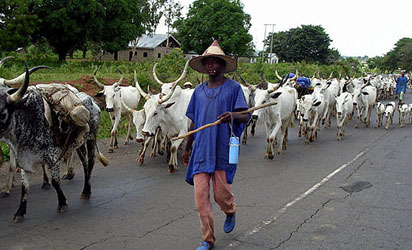 ''We found out that our traditional rulers do collect gratification from them. This should stop. The Fulani are their visitors and we are their people. They (traditional rulers) should be fair to us too.
''We are fed up with the whole issue. In fact, we are considering leaving Saki West area to relocate to Benin Republic."
Reacting to the allegations, the Oniro of Otu, Oba Sunday  Oyetunde Adepoju who applauded the Commissioner of Police, Mr. Adeleye Oyebade for the unprecedented step he took in laying the controversy to rest argued that there is no traditional ruler in the state that collects meat or money from the cattle rearers.
According to him, he also had been a victim of the herdsmen when their cattle ate up his crops.
He expressed the willingness of the traditional rulers to continue living peacefully with the Fulani saying, "We are not driving them away but they should stop threatening, raping our women or harassing us with security agents on our own land.
''We would prefer this kind of meeting to hold every three months so that the CP can be abreast of unfolding development. We also don't want the herdsmen to graze at night. We will prefer this kind of meeting to involve the real cattle owners because as we are talking here now, they are with their cattle and they don't listen to their leaders."
In his own comments, Mr. Fehintola Sunday from Iseyin said the town is mostly affected by the unholy attitude of the Fulani herdsmen.
Speaking on behalf of the Fulani herdsmen, the Serkin Sasa Sardaunan Yamma, Alhaji Haruna Yasin, who spoke through an interpreter, cautioned all his kinsmen to check their animals and stop grazing on the farmers' farmlands.
He said: "I warn all Fulani herdsmens to stop their cattle from destroying other people's farms and crops. Nobody will be happy seeing his crops being destroyed by your cattle. Also, all night grazing of animals should stop henceforth."
The CP specifically told all the representatives of farmers and herdsmen  that they will be held responsible if there was any violence again.
He warned the cattle rearers that if they are caught with AK 47 rifle, he would treat them like armed robbers, adding that he wondered what the herdsmen use such weapons for.