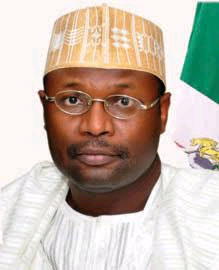 MAHMOOD-YAKUBU
* Wants candidates to emerge a year before election, backs e- Voting, Diaspora voting
By Henry Umoru & Joseph Erunke
ABUJA—THE Senate yesterday confirmed the nomination of Professor Mahmood Yakubu, as the chairman of the Independent National Electoral Commission, INEC as well as five others as federal commissioners to represent the five out of the six geopolitical zones of the country.
Those confirmed as federal commissioners of INEC were Alhaji Baba Shettima Arfo, Dr. Anthonia Taiye Okoosi Simbine, Mrs Amina Zakari, Dr. mohammed Mustapha Lecky and Mr Soyebi Adedeji Solomon.
It will be recalled that Senate President Bukola Saraki had on Thursday last week read a letter from President Buhari intimating the Senate of the name of the new INEC Chairman, Prof Mahmud Yakubu and five other National Commissioners and for subsequent confirmation.
In the letter, President Buhari also sought for the confirmation of Amina Bala Zakari who was acting INEC chair as Representative of the Northwest, Dr. O Taiye Okoosi (Kogi), North-Central, Alhaji Baba Shettima Arfo (Borno), North-East, Dr. Mohammed Mustapha Lecky (Edo), South-South and Mr. Soyebi Adedeji Solomon(Ogun) South-West.
Answering questions from the Senators, Professor Yakubu who noted that he was coming in to consolidate on the achievements of his predecessor, Professor Attahiru Jega and not for experimentation, said that he would send to the National Assembly a bill that would amend the Electoral Act where candidates of political parties would emerge a year to the elections.
He said, "Prof. Jega has done a marvellous job in reforming the electoral system of this country. I'm not coming in for experimentation. I'm coming for consolidation."
The confirmed INEC chairman who boasted that it was too late for anyone to intimidate him, however vowed that he will not in any way compromise his position, adding that the issue of E-voting and that of diaspora were desirable and inevitable, but however warned that if the E- Voting process must be adopted, Nigeria must trend with caution.
Professor Yakubu said, "I can't be intimidated. In the services of this country, I can't be intimidated. It is too late. I have the character to do the right thing.
Appropriate amendment
"The success of any election depends on the ability of the Commission to organise, arrange elections properly and in advance. But in this country, we have this culture of last minute rush. And as a result of this, so many things that are supposed to be done much early are not done. If six months is the time limit under the law at present, definitely we will look at the possibility of coming back to the National Assembly for an of the Electoral Act to enable us have longer period of time that will allow longer period of preparation."
On E-voting, he said, "It is desirable and inevitable. If you look at the trajectory from the last 10 years, the voters register comes in an electronic form. Initially, it was just a register, then photographs were added. And in the last election, both photographs and biometric were added.
"So, it is inevitable that one day, we will go into electronic voting. But the experiences of other nations show that we have to thread cautiously. It's technology, maybe untried, untested, we get bugged down. Is it pure electronic voting or electronic voting paper trail like they do in Venezuela?
"We are still grappling with the problem of infrastructure either for simple ICT use in our institutions or in our places of work and homes. So, it's desirable, inevitable, but we need to think through the implications of what we do. Otherwise, we may rush into it and just get bugged down.
"There must be no room for experimentation. As far as I'm concerned something has happened in this country in 2015. And we need to consolidate on that rather than to begin new experimentation with longer span of testing the validity of the process.
"Fortunately for us at governorship level, we have staggered election by default. Very soon, it will be Kogi and Bayelsa. Thereafter, we will have Ondo, Ekiti, Osun, Edo and Anambra.
"There must be a guiding principle. The workability of the technology and adequate consultation with stakeholders. The all-tested card reader and the challenges. The problem of technology is that it always comes up with challenges."
On Diaspora voting, he said,"That is inevitable. As a student of history, I know that there was a time in the history of this country in the First Republic when political parties had branches overseas. And we have a large number of Nigerians overseas, one estimate put it at 15million. They remit $20billion annually in returns to the country.
On Direct and indirect primaries, Professor Yakubu said, "I will like to see a Commission which consults widely rather than a Commission which sits in judgement. There are mechanisms for consultation with the parties through quarterly meetings and Inter Party Advisory Council (IPAC).
"So, instead of making a commitment on direct or indirect primaries, we will throw that up to consultations with the political parties. At the end of which we will then come up with what best method we should adopt.
"I have a problem with international best practice because we can't transplant the experiences of other jurisdictions, we can only borrow."
While responding to questions on the PVC's, the INEC Chairman who noted that the Commission will focus on the mandate at hand, said "About 70 million Nigerians registered for the 2015 elections, 56.3 million pvc distributed,500 thousand pvc unprinted at the time of the elections,12.3million PVCs not distributed.
"Instead of finding fault on why they collected pvc in borno and they did not collect elsewhere, I will rather focus that by this time next year all the 12.3million pvc's and 500million PVCs are distributed subsequently."
Ahead of 2019 Presidential election, the new INEC Chairman promised that there will be no issues with regard to PVC collection as it would ensure that all eligible voters get their PVCs except those not of age, adding that although people have the right to take the PVCS and not vote.