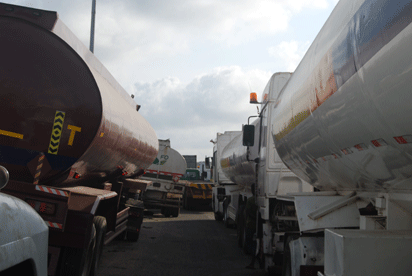 Apapa road blocked by Tankers
By Henry Umoru & Joseph Erunke
ABUJA—Disturbed by the recurring and perennial traffic gridlock along the Oshodi-Apapa Express-way, Senate has urged the Federal Government to, as a matter of urgency, commence the reactivation of rail lines at Apapa ports for evacuation of petroleum products.
It asked Lagos State government to collaborate with Federal Government agencies to end the present gridlock.
It also, yesterday, asked the Federal Government to consider long-term plans and expansion of the Apapa-Ijora-Iganmu-Orile-Mile 2 access trunks as well as the Apapa Tin Can-Mile 2 -Oshodi corridor, adding that government should move in and address the problem in the interest of the economy.
These resolutions were sequel to a motion by Senator Oluremi Tinubu (APC, Lagos Central), entitled The Apapa Port Gridlock, and Co-sponsored by 106 senators.
The Senate also resolved that when constituted, the Senate Committee on Marine Transport should summon the leadership of Nigerian Ports Authority, NPA; Nigerian Shippers Council; Ministry of Works and Transport; Western Naval Command; National Union of Road Transport Workers, NURTW; Association of Maritime Truck Owners, AMATO, and police to dialogue on how to tackle the menace of traffick gridlock.
Earlier, Senator Tinubu, while moving the motion, said: "75 percent of Nigeria's trade is ship-borne and shipped through the Apapa ports, where cargo and petroleum products bearing trucks regularly cause gridlock on Apapa-Mile 2 and Apapa-Oshodi corridors."