BY SIMON EBEGBULEM
THE Petroleum and Natural Gas Senior Staff Association of Nigeria has called on the Senate to look into the Petroleum Industry Bill (PIB), saying that the passage of the bill, like it was done by the House of Representatives will help check the excesses of oil thieves.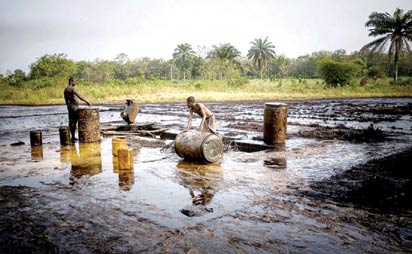 It said the PIB which was passed by the House of Representatives in June should be revisited by the Senate in view of President Muhammadu Buhari's desire to block leakages in the oil and gas sector.
The national president of the association, Mr. Francis Johnson, made the call at a training programme organised for executive members of the labour union on "Managing New Skills in Labour Relations" in Benin City.
According to him, "let the government come out with a strong legal framework that can stabilise the industry. Look at GSM; it was not like this when it started.
"So, you can look at giving Nigerians more licences; let Nigerians build refineries because they can also create jobs. When you have a legal framework for oil and gas, the issue of pipeline vandalism, state of our refineries will be taken care of. "
He, said that PENGASSAN was worried by what he described as the attitude of major oil firms taking advantage of falling crude oil price , thereby making oil workers redundant.
"Oil companies, oil majors, (International Oil Companies) IOCs should not be taking advantage of the fallen crude oil prices. You cannot say that because there is a fall in crude oil price, which is something that is temporary and fluctuating, you want to make our members redundant and you are employing new people.
Earlier, the National Industrial Relations Officer, Mr. Nduka Ohaeri, explained that the training programme was aimed at providing appropriate skills for members of the union to enable them manage industrial conflicts at the state, zonal and national levels.