* Urges Buhari to tell Nigerians true state of the economy
Governor Ayodele Fayose of Ekiti State, yesterday, asked the President Muhammadu Buhari-led Federal Government to address the nation about the state of the economy and stop propaganda.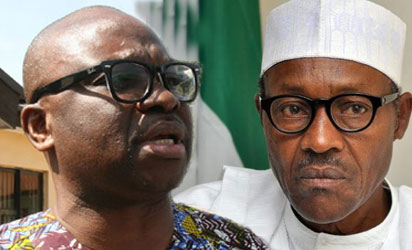 Speaking at the 22nd Convocation of the College of Education, Ikere Ekiti, Fayose warned that unless drastic action is taken, the economy might collapse in the next three months.
Fayose, who is the Visitor to the College, lamented the deplorable state of the nation's economy, noting that rather than address it, the All Progressives Congress- led Federal Government has been employing propaganda to deal with the issue.
He said: "This is the time for the Federal Government to come out and tell Nigerians about the state of the economy rather than employ propaganda.
"I foresee serious trouble ahead because in the next three months, the economy may collapse. Oil now sells in the region of $40 per barrel. Things have never been bad like this. When I returned from the Holy Land yesterday (Wednesday), I was told that Ekiti got N1.4bn whereas my wage bill per month is N2.6bn."
Governor Fayose, however decried that Ekiti people don't pay tax, wondering how government could work for the people with depleting allocation from the centre.
Fayose also advised both lecturers and students to promote morals, saying lecturers who sexually harass student cannot promote morals.
Meanwhile, the Managing Director of Capital Oil & Gas Industries Ltd, Ifeanyi Ubah, Fellow of the College.
In his acceptance remark after the conferment of the Fellowship, Dr Ubah promised to join hands with Governor Fayose to develop the institution.
He said, "If Ekiti does not have Fayose, I won't be here. I will join hands with him to build some hostels and faculties so that by the time we come here next year, we would have something to show since I am now part of this institution."
In her convocation address, the Provost of the College, Professor Francisca Aadejana said a total of 70 students bagged Distinction out of over 2,000 graduating students for the regular NCE certificate.
She said 29 others also bagged Distinction from Professional Diploma in Education which is affiliated to Teachers Registration Council of Nigeria.
Aadejana espoused the sterling qualities of Ubah which qualifies him for the award, noting that the awardee has impacted positively on the lives of many Nigerians.
"The conferment of this fellowship means that you are today part of the College family. You now share our problems, achievements and exploits."
Subscribe for latest Videos