By Daud Olatunji
ABEOKUTA-Wife of President, Hajia Aisha Buhari, Wednesday, said Nigeria needs good and honest women like the late HID Awolowo.
The Nigerian first lady who was in Ikenne, the hometown of Awolowo to pay homage to the family over the death of HID Awolowo was accompanied by wife of Vice-President, Dolapo Osinbajo, a former deputy governor of Plateau state, Pauline Tallen , wife of immeidiate-past governor of River state, Judith Amaechi among others.
Mrs. Buhari who arrived Ikenne at 2:45 pm was received by the eldest child of Awolowo, Omotola Oyediran and some grand children of Awolowos .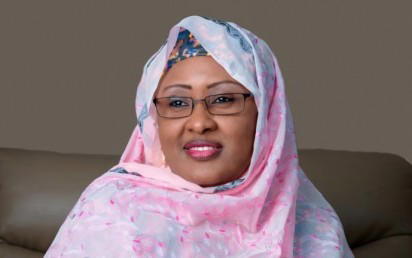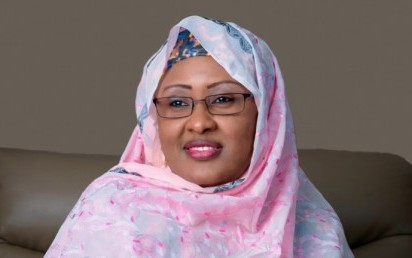 In her remarks, Buhari described the death of mama HID Awolowo as sad, saying, she was informed of the planned centenary celebration of her the first time she visited mama during the electioneering.
She said " It is sad today to pay our respect our dear mother ,grandmother and mother of the whole nation.
"We all know the role mama played as a dutiful mother, as a dutiful housewife and she was a role model to a lot of Nigerian women.
"We pray for the family, we pray for Mama, may her soul rest in perfect peace and may God give the family strength to bear the loss, because, it is a great loss to the nation. Their is the type of a woman that Nigeria needs, she was a backbone of the family".
While welcoming the Wife of the President and her entourage, the eldest daughter, Omotola Oyediran said President Buhari's administration is toeing the steps of the late premier of western region, Chief Obafemi Awolowo.
She assured the Wife of the President of support from Awolowo family to her husband government, saying, the family was overwhelmed with the visit of the wife of the President.
Oyediran however, recalled how her mother died on September 19, saying, she died as a fulfilled woman.
She urged women in the country to be honest and be loyal to their spouses, adding that, her late mother was honest and loyal to her husband.
She also described Mama HID Awolowo as a believer, saying, despite the death of three of her children, she remained steadfast and faithful and never cursed God.
According to her, the reason why mama has been so well celebrated is because of her steadfastness. She experienced a lot of grief. There were five of us, my eldest late brother who was a barrister died at the age of 24 and then of course myself, my late brother, the former publisher of Nigerian Tribune and then the mother of wife of vice President my little sister.
"And throughout her period of grief, she did not curse God. She knew it was going to be well and that is a lesson. I pray that we will not suffer that experience", she said.