Abuja – The Nigeria Football Federation (NFF) on Monday urged Nigerians to exercise patience with Sunday Oliseh, the Super Eagles Head Coach, in his quest to build a formidable team.
The NFF General Secretary, Mohammed Sanusi, told the News Agency of Nigeria (NAN) in Abuja that few matches were not enough to assess Oliseh's capability.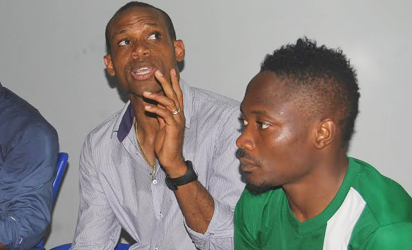 Sanusi said the Super Eagles 3-0 defeat of the Indomitable Lions of Cameroon in an international friendly on Sunday, showed that the team learnt some lessons from its earlier 0-2 loss to DR Congo.
"I have said this at different fora, that if you are judging a team, there is a need for people to be patient with the manager because Rome was not built in a day.
"The coach said he wants to build a football culture; he has just played one or two matches and I do not think that these two matches are enough to judge the coach.
"We have to give him time; we saw the first match and we saw the second match.
"There is a significant improvement in the second match and it is an indication that a lot of good things are going to happen in Nigerian football.''
He added that the Football House was not in a hurry to demand results from Oliseh since the team was moving from bad to good.
"when you play a good match and then deteriorate, that is when you can express worry.
"But if you play a bad match and you are improving day-by-day, it is an indication that something positive is coming," Sanusi said.
NAN reports that the NFF arranged the DR Congo and Cameroon friendlies to help Oliseh in the process of rebuilding the Super Eagles. (NAN)
EMAF/COF/NK