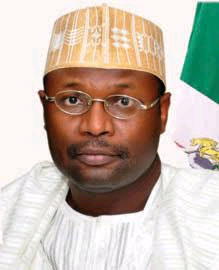 MAHMOOD-YAKUBU
By Henry Umoru
ABUJA- STRONG indications emerged yesterday that the state will today screen the new Chairman of the Independent National Electoral Commission, INEC, Professor Mahmud Yakubu.
According to a source, the Committee of the whole would carry out the screening today as part of moves to save the forthcoming Kogi and Bayelsa elections from running into problem where constitutional issues could be raised by Nigerians.
The source noted that the decision to screen the INEC Chairman and other nominees today was taken after a meeting of the leadership of the Senate yesterday evening.
The screening is coming without the composition of the Committee on INEC which would have handled the screening and then forward the report to the Committee of the whole.
It would be recalled that Senate President Bukola Saraki had on Thursday read a letter from President Buhari intimating the Senate of the name of the new INEC Chairman, Prof Mahmud Yakubu and five other National Commissioners and for subsequent confirmation.
In the letter, President Buhari also sought for the confirmation of Amina Bala Zakari who was acting INEC chair as Representative of the North-west, Dr. Anthonia Taiye Okoosi (Kogi), North-Central, Alhaji Baba Shettima Arfo (Borno), North-East, Dr. Mohammed Mustapha Lecky (Edo), South-South and Mr. Soyebi Adedeji Solomon(Ogun) South-West.
According to a source, the leadership of the senate resolved Monday evening that the screening was an urgent matter and so would be carried out at a committee of the whole today, adding that the leadership resolved that the screening could not wait for the composition of the INEC committee because of the forthcoming elections in the two states.