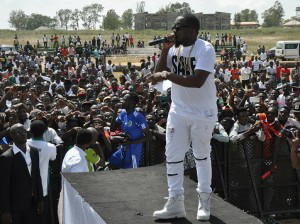 It was home coming for hip hop master, Ice Prince (real name Panshak Zamani) as he delighted the students and staff of Plateau State Polytechnic, Jos with a thrilling performance when the Etisalat Cliqfest train berthed at the campus during the week.
The polytechnic community also got frenzy with live performances by the Nigerian Idol Season 4 winner, Evelle (Evelyn Zibili), second runner-up of the Nigerian Idol Season 5, Nex2 (Ese-Amadasun Imuetiyan), and the GRIP Boiz.
For several hours, the celebrity music acts kept the large community of students and staff of the polytechnic on their feet dancing and singing along popular lyrics as several of them thronged the school's open field to catch fun and connect with their friends.
The 'Oleku'master was everywhere on the stage, and also momentarily surged towards the huge army of fans as he dished them 'Superstar', 'Aboki, 'Gimme Dat among other songs. Wild jubilation rented his popular songs as he took out time to encourage the students to believe in themselves and their dreams. ''I came out of J town and went places", he boomed.
"I want to use my story to tell you that if I can make it out of J town and sit with Jay Z, then you can make it. I don't care about your background or what you have suffered, you too can make it''. Interlacing his words with Hausa, he urged them to embrace peace in the spirit of the Independence Day celebration saying "Jos is known for swag and carrying bombs or knives is not swag."
Crooned in his silky voice, Nex2 also put flame in the infectious excitement performing his tracks such as Ring the Alarm and Mofesterise. Evelle blew them away with her rich renditions of three of her songs – Kilmanjaro, I'm Naughty and Time to Shine. She also gave away her fez cap to one of the students.
For the GRIP Boiz, it was just good being at home. The hip-hop and dance hall artistes comprising the trio of Endia, J-Milla and Yung El, who are all from the city of Jos, held the students in their grip singing irresistible tracks such as Dash Me da Ting, Mr. DJ, Holiday, Fire and Rude Gyal among several other numbers.
As if what each set of musicians had given was not enough, Ice Prince later took to the dance floor with the students and he and GRIP Boiz also performed a stage collabo that sent their fans on wild excitement.
Commenting, the elated President of Plateau State Polytechnic Students'Union, Daniel Dashon thanked Etisalat for being the first telco to bring a rich mix of youth-centric initiative to the school. He said, "This is the first of kind in this school because no telecoms company has deemed it fit to visit us except Etisalat. We are delighted at this gesture, and we are also inviting them to come again and again. We also want them to site their mast in our school as many students are in love with Etisalat."