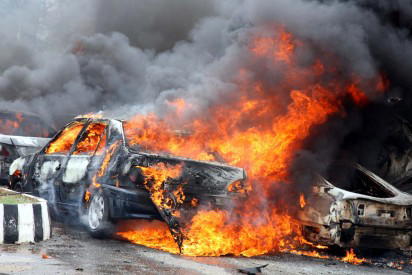 File Photo: Gombe presidential rally Car-Bomb-Blast in 2014
The National President of the Nigeria Union of Teachers, (NUT), Com. Michael Olukoya, on Monday said that the union has lost over 600 of its members to Boko Haram attacks.
According to him, 308 teachers were killed in Borno, 75 in Adamawa, 18 in Yobe, 25 in Kaduna, 120 in Plateau, 63 in Kano and two in Gombe states.
The figure he said is in addition to the 19,000 teachers that had been displaced and are suffering great losses due to the activities of the of insurgents.
To check further bloodshed and loss of teachers, the NUT boss called on the federal government to beef up security around public schools in the country.
Olukoya spoke on Monday at the Oluyemi Kayode Stadium, Ado Ekiti venue of the 2015 World Teachers' Day celebration.
The unionist, also urged the government to increase teachers retirement age to 65, to prevent premature retirement and retention of matured and experienced individuals in the system as a way of arresting the falling standard of education in Nigeria.
Also the governor, Ayodele Fayose gave new Kia Soul car to the new Headmaster-General, Mrs. Talabi Rachael, while Mrs. Akindele Mary Olayinka, best primary school teacher and Mr Adeola Ife, best teacher in secondary school got similar gift each for their outstanding contributions to the educational development in the state.