By Laju Iren & Gabriel Olawale
ALTHOUGH the figures vary from study to study, it is an established fact that there are more women than men on the internet. In this century, it is almost impossible to develop as an individual, organisation or country without the right amount of computer literacy and access.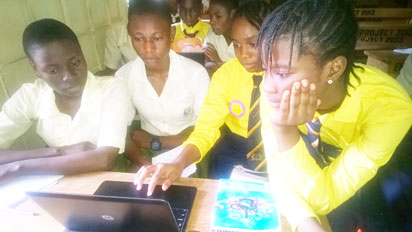 To address the short change of girls in the area of Information and Communication Technology, Google in partnership with Working to Advance African Women, WAAW Foundation and Vision Spring Initiative, VSI, has trained female students from four secondary schools in Lagos on computer programming activities using Arduino, Rasberry Pi and Javascript.
Speaking during the two-day training workshop, WAAW's Operations Director, Florence Ogunbor said that the programme which targeted secondary school girls within the age of 12-14 years was aimed at developing the interest of girls in science and technology by getting them involved in simple and computer programming activities.
Her words: "At the end, this project will improve kids' creativity and innovative abilities. It would provide them the opportunity to employ computer science and technology innovations in solving real world problems in their community."
Ogunbor who lamented the low engagement of female students in science courses said that part of their commitments was to encourage them to be bold and strong enough to take up careers in Science, Technology, Engineering and Mathematics, STEM.
Continuing she said: "Girls must remember how useful they are to the economic development of our nation. There is need for more women to be technologically inclined and contribute to nation building. The vision of WAAW Foundation is to empower African women to become impactful leaders and technology innovators through STEM education."