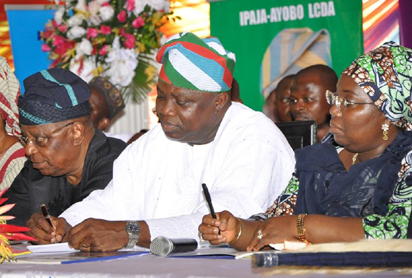 Governor Akinwunmi Ambode (m); his Deputy, Dr (Mrs) Idiat Adebule (right) taking notes during Ambode's First Quarterly Town Hall Meeting, themed, "Community Inclusion in Governance," held at the Abesan Mini Stadium, Ayobo-Ipaja, Lagos on Tuesday, October 6, 2015
By Ikenna Asomba
IT was a rare opportunity to interact with their governor one-on-one, and residents of Ayobo-Ipaja community in Lagos enthusiastically took advantage of it by coming out in their numbers to express their feelings and desires to the state's chief executive. And not surprisingly the people had so much to say, both in appreciation of their governor's kind gesture in coming to meet them and what they expected him to do for them.
For Governor Akinwunmi Ambode, the occasion was right and indeed auspicious to demonstrate commitment to one of his electoral promises of running a government based on bottom-up budget plan.
This is because prior to the April 11 governorship election in Lagos State, not many Lagos residents understood what Ambode, who was the standard-bearer of the All Progressives Congress, APC, at that poll, meant at the time.
But on Tuesday, October 6, 2015, when he stormed the Ayobo-Ipaja community to render account of his stewardship at the maiden edition of his quarterly Town Hall Meeting, themed, "Community Inclusion in Governance," it was an opportunity to explain it all.
Bottom-up budget
Governor Ambode, who addressed thousands of residents, party chieftains, traditional rulers and top government officials at the Abesan Mini Stadium, Ayobo-Ipaja, explained that a bottom-up budget means meeting first-hand with residents to ascertain what their priority needs are and how his administration can accommodate them in the budget as well as execute them effectively.
Responding to several critical questions of governance posed to him by residents, Ambode pointed out that one of his first key tasks on assumption of office was to stabilise the finances of the state.
According to him, over the last four months that his administration came on board, he had embarked on financial re-engineering and reviewed the revenue and expenditure frameworks of the state, adding that these efforts coupled with the realignment of Ministries, Departments and Agencies have saved the government almost N3 billion every month.
"This has provided us with more funds to inject into capital projects and the initial funds to establish the Employment Trust Fund which we promised our youths," he said.
Governor Ambode who reiterated his vision to make the state globally competitive in all sectors, said that his administration has mapped out long-term plans and programmes that will lead Lagos on the path to becoming a truly competitive city-state.
Highlighting some of his administration's strides in the last four months, the Governor said that aside using the period to set up an institutional framework to pilot the programmes and policies of government, remarkable interventions and reforms have been made in the areas of road rehabilitation, health care, security, service delivery, transportation and education.
Speaking specifically on road rehabilitation, Governor Ambode said about N1.3 billion has been earmarked towards the construction and rehabilitation of over 190 roads across the state, most of which were not catered for in the 2015 budget.
He listed some of the roads to include Agege Motor Road, Herbert Macauley Way, Yaba, Murtala Mohammed Way, Isolo, Ahmadu Bello Way, Victoria Island, Dopemu Road, Agege, Akowonjo Road, Akowonjo, Obalende Bridge, Obalende, Isaac John Road, GRA and Apapa Road, Ebute Meta.
Other roads he mentioned include the Apapa-Oshodi Expressway, Toyota-Charity Axis, Olufemi Street, Shomolu, Billy Street, Epe, Aswani Road, Isolo, Yekini Street, Shogunle, Oshodi, Isawo Road, Ikorodu, some of which he said are federal roads.
"As I speak, work has commenced on the Ago Palace Way-Okota Road. The State, in conjunction with your local governments and local council development area, is coming to your neighbourhood soon.
"The Ejigbo–Ikotun Road, Okota-Cele Road, Metalbox Road and Acme Road in Ikeja are currently being rehabilitated, while work has started on Brown Street, Oshodi, Ladipo Street as well as Mushin Road.
"Till date, we have committed N1.386 billion to road construction and rehabilitation. We will pump more funds into road infrastructure in this present quarter," the Governor said.
Our needs: Meanwhile, speaking to Vanguard Metro, the Chairman, Oke-Isagun Community Development Area, CDA, Mr. Adebisola Adewole, expressed confidence that Ambode's visit to the area is a sign of good things to come.
Adewole, who however outlined some of the major challenges of his CDA, said: "We quite appreciate him (Ambode) for demonstrating to us that for progress to be achieved in our communities, he needed to meet with the people to feel their pulse, to know their problems with a view to providing solutions.
"Again, most of the things that our people have told the governor is a statement of fact of what we are facing here. In the area of roads, we are facing serious problems of traffic congestion, not to talk of Ipaja or Dopemu Bridge. There are two roads that are of major concern to us. If government can fix them for us the perennial traffic gridlock faced around Ipaja, Ayobo, Abesan, Abulegba will be reduced. Those two roads are Oke-Isagun Road and Iyana Ipaja Road.
Housing project
"The major road is off Command Road, and we have two estates there. Government has already tarred Diamond Estate and presently, they are embarking on the construction of low and medium-cost housing projects in the other estate, that is the Sunrise Estate. That road is in-between that estate. There are also two schools sited in the Oke-Isagun community. So, we would appreciate that government fixes the bad roads, especially now that its institutions are sited there. The road should be opened up to Aboru and to Iyana-Ipaja. We have the strong belief that Ambode is a listening Governor, who will always come to our aid whenever we call on him."
Question and answer session: The question and session of the meeting was indeed a lively and interesting affair. It was an opportunity for the residents to make known their requests to the governor.
For instance, Pastor Boniface Adeyemi, a resident of Abaranje-Okerube, in Ikotun area of the state, appealed to the governor to assist them construct a secondary school in their community.
Responding, Ambode assured that the appeal will be captured in the state's budget next year.
Noise pollution
Similarly, Alhaji Adeleke Ogunowo from Oku-Oba Central Mosque, asked the governor on the state government's stand on noise pollution, particularly as it affects religious organisations.
Responding, Ambode clarified that the state has an existing law that prohibits noise pollution, adding that the activities of security agencies to ensure residents abide by this law should not be seen as punishment against religious organisations.
He however, urged the residents to curb noise pollution in their various areas, so as not to disturb others.
Also, Mr. Gift Ikpe from Mosan-Okunola community appealed to the governor to empower residents of the community, particularly the youths, by establishing fish farming centres.
Responding, Ambode promised to direct the state's Ministry of Agriculture to partner with the community to set-up fish farming centres in the community.