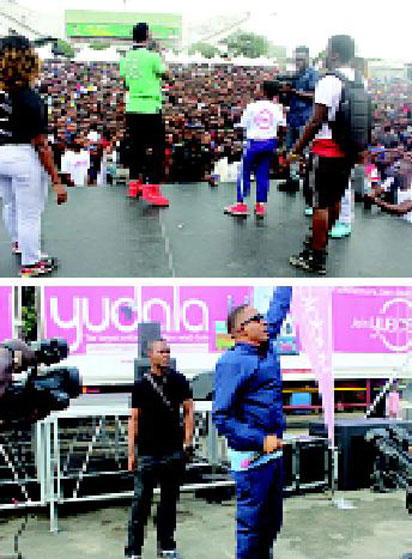 Yudala
By Laju Iren
Online and offline retail chain, Yudala recently launched a new Corporate Social Responsibility, CSR, initiative to promote fitness, wellness and entrepreneurship among Nigerians. Tagged Gyming with the Stars, the event which held in Lagos also doubled as the unveiling of YUBOSS, an entrepreneurship scheme targeted at jobs and wealth creation for Nigerians in partnership with Access Bank Plc and Airtel.
The well-attended event which kicked off by 7am witnessed work-out and light jogging sessions anchored by fitness instructors and ace comedian Ali Baba who doubled as compere and held the crowd spell-bound with his rib-cracking jokes. In addition, popular artistes Iyanya and Naeto C were on hand to add to the excitement, thrilling the crowd to several hit songs from their collections.
The event also featured a wellness talk by a healthy living expert Miss Julie Nwosu, inspirational tips on wealth creation in the 21st Century through YUBOSS and auction sales on a wide range of genuine products from the biggest brands: Smart phones, Computers, Laptops, IT equipment, Consumer Electronics and Lifestyle goods, with bidding starting from over 90% off actual product prices. Star products of the day were the Phillips Air Fryer and Smoothies, latest healthy lifestyle products from the brand.
Expressing his delight at the unprecedented turn-out and instant acceptance of the YUBOSS scheme which had many participants signing up at the event, the Chief Executive Officer, Yudala Nigeria – Mr. Dave Ibelegbu noted that the company is committed to empowering Nigerian youths to become the masters of their own destinies, while setting new standards for the retail business in Nigeria.
"Going by our bold entry into the market and unique business model – a fusion of online and offline retail – Yudala has raised the bar in terms of service and product delivery today. It is important to state here that we are here to stay. We are a corporate with a conscience, a clear road-map and a mandate to contribute to the growth of the Nigerian economy.
This is why we have put together the YUBOSS scheme through which smart Nigerians such as undergraduates, postgraduate students, unemployed, under-employed, housewives and many others can earn money and be their own bosses with zero investment. We are looking at empowering a minimum of two million Nigerians through YUBOSS and these figures are certainly going to rise as we go along. Through Gyming with the Stars, we are also promoting fitness and wellness by giving Nigerians a chance to work out with some of their favourite celebrities in major cities across the country."
Also speaking at the event, Executive Director, Personal Banking at Access Bank, Mr. Victor Etiokwu who represented the Group MD, Mr. Herbert Wigwe disclosed the shared optimism and commitment of the bank in partnering with Yudala to make the YUBOSS scheme a success.
"From what I have witnessed today, two million may be too little a number that will join in ten next 12 months as the country is currently challenged with over 19 million unemployed and under-employed citizens. YUBOSS is certainly a great a platform as it offers wealth and skill." Toeing  the same line, Mrs. Tawa Bolarin, Director, Airtel Nigeria, who stood in for the Chief Executive Officer/Managing Director, Mr. Segun Ogunsanya noted that the zero investment nature of YUBOSS resonates with Airtel's tradition of offering Nigerians huge value for less, while urging more Nigerians to sign up for the scheme.