By Samuel Oyadongha
FORMER President Goodluck Jonathan has assured the Bayelsa State Government and the Alamieyeseigha family of his commitment to efforts geared towards giving the departed foremost Ijaw leader a befitting state burial.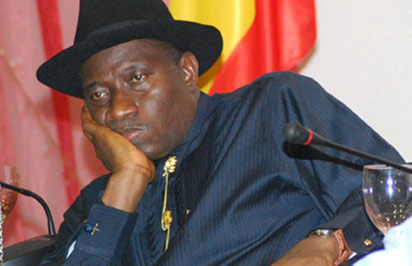 Dr. Jonathan gave the assurance, yesterday, when he paid a condolence visit to the deceased family at Opolo in Yenagoa.
The former President, who is scheduled to travel to Tanzania, where he is expected to spend about 12 days, promised to be fully involved in the burial arrangements, as soon as he returns to the country.
Accompanied by Governor Seriake Dickson, his Deputy, Rear Admiral Gboribiogha John Jonah (rtd) and other dignitaries, Dr. Jonathan said, he received the death of Chief Alamieyeseigha with a rude shook, stressing that the deceased leader stood firmly for Bayelsa, the Ijaw people and the South-South geo-political region.
Dr. Jonathan traced his relationship with Alamieye-seigha to the days of the United Nigeria Congress Party (UNCP), one of the five political parties formed during the administration of Late General Sani Abacha as Nigeria's Head of State.
Assuring the Alamieyeseighas' especially the widow and children of his continued support, Dr. Jonathan acknowledged that without the role the Governor-General of the Ijaw nation played in his life, he would not have risen to become President of Nigeria.
According to him, "I knew Alamieyeseigha during the UNCP days, when we were working for him. I never knew I was going to be his Deputy Governor because that was not my interest then.
"From that time, the political evolution in the country and the state brought me to run with him. From 1999, we've been together.
"He always took me as his younger brother. Our relationship was not that of a governor and his deputy but that of an elder and a younger brother.
"Alamieyeseigha meant well for Bayelsans; stood very firmly for the Ijaw people and wanted to advance the South-South. He's somebody we've collectively missed", he lamented.
Highlights of the visit included the signing of the condolence register by Dr. Jonathan and consolatory prayers offered by the Bishop of the Royal House of Grace International Church, Bishop Peter Leghemo for the state, the Ijaw nation and the deceased immediate family.