By Jude Opara, Abuja
Analysis
Certainly the dust raised by the sudden retirement of Super Eagles first choice goalkeeper, Vincent Enyeama from Nigerian senior national team will linger for a while.
Already many commentators have been discussing the issue which took place in far away Belgium during the double header international friendlies against Congo and Cameroon.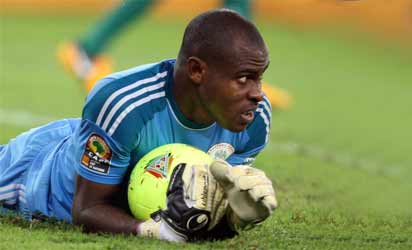 There were conflicting accounts of what led to the altercation but before going into their merits and demerits, it is instructive to state that the whole saga was avoidable as it is regrettable.
One account is that Oliseh got angry with Enyeama for reporting to camp on Tuesday instead of the Monday deadline while another said it was because of the captainship which was taken away from the goalkeeper and handed over to CSKA Moscow striker, Ahmed Musa that sparked off the saga.
However it must be stated that it takes an extra ability to manage human beings especially young footballers who are rich and also exposed.
What has happened may have forced some analysts to begin to take a second look at the managerial skills of Coach Sunday Oliseh. This is because a coach is supposed to know when to convey certain messages to his players and when not to.
Looking at the circumstances that led to Enyeama's late arrival to camp, one would have expected Oliseh to have shown maturity by respecting the fact that the former Enyimba International of Aba goalkeeper just buried his mother the previous Saturday.
In my opinion, I believe that for Enyeama to have arrived Belgium on Tuesday demonstrates enough patriotism because it means that after the usual outing service on Sunday, he must have left Uyo on Monday to board a flight to Belgium.
Secondly, we must not forget that as Africans we pay enough respect to the dead. I am not interested whether or not Oliseh has the right to appoint his captain but doing that immediately after Enyeama buried his mother was ill-timed; which means he ought to have acted on the side of caution.
Again even if he had wanted to change his captain, Oliseh should have informed Enyeama before hand of his intention of changing him as the team captain because respect they say begets respect.
In as much as we all agree that Enyeama has the record of having issues with past Super Eagles coaches like Samson Siasia and Stephen Keshi, the manner Oliseh handled the issue is now earning him some sympathy.
Again considering the precarious situation of the Super Eagles in the qualification for the 2017 Africa Cup of Nations (AFCON), Oliseh should be careful on how he courts trouble for himself and the national team.
A lot of commentators have queried the wisdom behind handing the captainship of the team to Ahmed Musa instead of Chelsea of England midfielder, Mikel Obi who used to be Vincent Enyeama's assistant. That action inadvertently suggests that the likes of Mikel and other senior players are free to dump the team if they can't subject themselves to Musa's leadership.
I don't want to believe that Oliseh settled for Musa because he does not want any player who is outspoken like Obi. Well there is an adage in my village which says that a head-hunter is never comfortable when another person goes behind him with a machete.
We still remember how Oliseh gave the authorities sleepless nights during his playing days, so it is a bit confusing why he now wants somebody who is very gentle as against somebody as outspoken as himself.
His bungling of the Enyeama saga must have put the NFF on the edge hence the speed at which the federation waded into the matter which resulted in the meeting where Enyeama said for him to rescind his decision to retire, he must have to talk to his wife and family.
Of course the NFF in this case has its hands tied because having just engaged Oliseh, they must be seen to be giving him all the support he requires. Therefore, they had no other option than to seem to have sided the coach on his decision.
But beyond the fact that Enyeama has been talking of his possible retirement from the national team, I believe that what the goalkeeper was hinting is that Nigeria should begin to groom other young goalkeepers that can take over from him, to me that does not mean that he must be so discarded at the slightest excuse.
If the coach knew he could as well do without Enyeama, then there was no need inviting him in the first place. In my opinion the rebuilding of the national team should not necessarily begin with the nomination of a new team captain especially where the so called old players are still very relevant.
Finally, since nothing lasts forever and the fact that once confidence is compromised, it will be difficult to build it again. What I will suggest therefore is that Enyeama should go ahead and retire from the national team because if he returns, any day he has a bad day and the team loses a game, many people will say he wanted to sabotage the coach.
Therefore, it is my submission and prayer that anything that will jeopardise the quest of the country to qualify for the 2017 African Cup of Nations (AFCON) in Gabon must be avoided because Nigerians will not entertain any excuse if the unexpected happens.