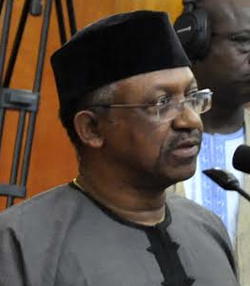 The Minister of Health, Osagie Ehanire
By Simon Ebegbulem
BENIN—THE Benin Leaders of Thought, BLT, led by the Enogie of Obazuwa and younger brother of the Oba of Benin, Prince Edun Akenzua, has said the appointment of a minister of Bini extraction, in the person of Dr Osagie Ehanire, by President Muhammadu Buhari, will not stop the Binis from producing the next governor of the state in 2016.
The BLT recalled that during the 16 years tenure of the Peoples Democratic Party, PDP, the former Chairman, Board of Trustees, of the Peoples Democratic Party, PDP, Chief Tony Anenih, had allegedly influenced all appointments to Edo Central senatorial district, despite cries from the Binis.
The BLT was reacting to comments from some leaders of the All Progressives Congress, APC, from Edo Central agitating that the governorship ticket be ceded to the Central district since the Minister is from Edo South district.
In a statement, the chairman of BLT, Prince Akenzua, commended President Buhari for appointing Dr Ehanire as a Minister asserting that "this is the first time a proper representative of the people of Benin is being nominated for appointment to the office of a Minister. In the past 16 years, a politician outside Edo South would patronizingly recommend any Benin person for appointment. President Buhari's appointment of Dr Ehanire to represent Edo State has set tongues wagging in some quarters.
"Some politicians in Edo Central are saying that the nomination rules out Edo South from next year's governorship race. They say elective offices are zoned and since Edo South got the Ministerial slot, it should not get the governorship slot.
"The statement is baseless. It is fallacious. There has been no zoning policy by any political party in the state. In Chief Obasanjo's presidency, Edo Central had four Ministers, namely: Chief Tony Anenih, Odion Ugbesia, Dr Itoto (Late) and Architect Onolenmeme. They succeeded each other. President Jonathan removed the only Benin man he met as Minister, even though he was a "Junior Minister". In his eight years as President, he did not include a Benin person in his cabinet."
"Why are they now talking of zoning, as if it had been there and those they had applied it to Edo South during the PDP days? Politics they say is a game of number.
"In other words, in democratic politics the majority carries the votes. The minority will always have their say but the majority will have its way. National Census gives Edo South about 52 per cent of the population of Edo state; Edo Central has about 17 per cent. Why will a minority group continue to take the lion's share?," the statement queried.