* Says I was only invited, not arrested
By Ikenna Asomba follow @ikennaasomba13
Following his Friday's arrest and and eventual release by the Economic and Financial Crimes Commission, EFCC,  former Governor of Akwa Ibom State and Senate Minority Leader, Godswill Akpabio, has returned to his Abuja residence, affirming that he has nothing to hide about his term in office as the governor of Akwa Ibom State.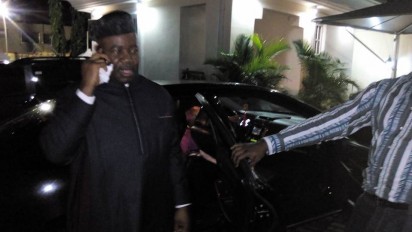 Akpabio who served two terms, as governor of the state between 2007 and 2015, was invited, yesterday, at about 5. 20pm to the Abuja Headquarters of the EFCC, over a petition dated June 22, 2015 and addressed to President Muhammadu Buhari and the EFCC.
The petitioner, Leo Ekpenyong alleged that Akpabio, fraudulently converted N108.1 billion belonging to Akwa Ibom State during his tenure as governor.
Akpabio, who honoured the anti-graft agency's invitation, accompanied by a few aides and his lawyer, Ricky Tarfa (SAN), said via his Twitter handle, @SenAkpabio managed by his social media team, that he has arrived home some hours after.
The tweets read: "His Excellency, Senator Akpabio is back to the house. We want to reaffirm that he has nothing whatsoever to hide about his term in office in Akwa Ibom."
Earlier, @SenAkpabio had tweeted: "Senator Akpabio was never arrested. He simply obliged an invitation to come and answer some questions at the EFCC headquarters.
"Senator Akpabio has nothing to hide that's why he walked into EFCC himself this evening to answer questions about his tenure in Akwa Ibom.
"Those who are playing politics with the decision of Senator Akpabio to honour the EFCC invitation must be acting a known script.
"Senator Akpabio was called from EFCC to come for explanations and he drove there himself 50 minutes later. So, why all the news of arrest?"