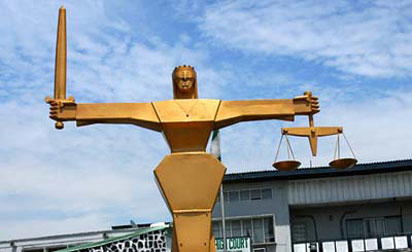 *Court
By Gabriel Enogholase
BENIN—President of the Customary Court of Appeal, Edo State, Justice Peter Isibor, has set up a panel of inquiry to investigate alleged mismanagement of N32 million at the headquarters of the court in Benin.
The four-man panel headed by Justice Timothy Oboh, it was gathered, had already quizzed some principal officers of the court although no one had been indicted so far.
Other members of the panel included Justice P. A. Akhihiero and Mr. T. A. Momudu, Secretary.
Justice Isibor said the panel would, among other things, ascertain and verify all incomes and expenditures of the directorate, ascertain whether there was any fraud committed, recommend appropriate measures for the disbursement of all incomes henceforth as well as recommend measures for shoring up incomes of the directorate in future.
He, however, explained that one of the members of the panel, Justice O. Ovbiagele later withdrew his membership for undisclosed reasons.
Justice Isibor explained that the N32 million was over head paid to the Directorate by the Edo State government for the months of January to April specifically, noting that "I have been very circumspect when it comes to the management of funds here. Unless I see what they want to use funds for and I find that it is reasonable, I don't approve. But to the best of my knowledge, all my approvals have been predicated on the utility and usefulness of any request made."
He, however, added that for now a case of fraud or mismanagement of funds had not been established in the directorate until the panel submitted its report.