The Presidency on Sunday confirmed the arrest of former Petroleum Minister, Diezani Alison-Madueke in London saying it is working closely with British law enforcement over allegations of corruption and money laundering levelled against the former minister.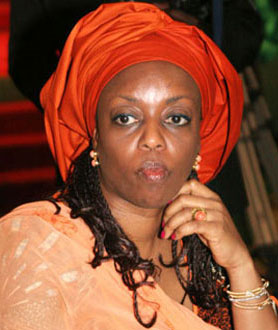 In a Premium Times report , Senior Special Assistant to the President, Garba Shehu  said, "Nigerian authorities are saying for the first time that matters are being handled with seriousness and deep commitment. Nobody wants to give the impression that this government is frivolous and unserious.
"For this reason, government is only confirming active collaboration. Beyond this, we are not saying more. In due course, Nigerians will be briefed on updates as appropriate."
Asked about the identities of the other four people arrested with the former minister, Mr. Shehu declined comments, saying, "as I said no one is willing to provide further details at this point".
Recall that Vanguard reported yesterday that there were indications, that the minister, who  was arrested and released in the United Kingdom,Friday, on money laundering allegations, may be charged to court, this week.
Vanguard learnt that besides the four other persons arrested with the former minister, more suspects may also be arraigned.
The trial is expected to be conducted in London and is likely to draw thousands of Nigerians resident in the United Kingdom (UK) but no date was specified, last night, when Vanguard made contacts with the National Crime Agency (NCA), which arrested and released Diezani and  the four others on Friday.
An official of the NCA gave indication of the trial in a telephone chat  but pointed out that the identities of all the suspects would only be unveiled at the point of charging them to court.
The official explained that the law establishing the NCA does not allow it to name those being investigated before charging them to court.
The official said: "Indeed we cannot name the five persons who were arrested and granted police conditional bail until we are ready to charge them to court.
"The law does not permit us to do so and we will release appropriate information to the media as the case progresses".