By Soni Daniel, Northern Region Editor
Immediate past governor of Benue State, Gabriel Suswam, has been summoned by the Economic and Financial Crimes Commission, EFCC, to appear before the anti-graft agency for interrogation over allegations of massive corruption leveled against him.
Suswam, who left office on May 29, this year, is alleged to have made away with state funds running into billions of Naira and is expected to say all he knows about the funds when he appears before EFCC's interrogators in Abuja on Monday morning.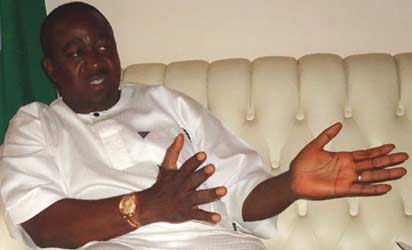 As a prelude to dealing with the former governor, the commission on Friday grilled his former finance commissioner, Mr. Omadachi Oklobia for hours in Abuja with a view to eliciting vital information that may help them in confronting Suswam.
Oklobia, who is also said to be involved in the Suswam alleged corruption case, reported to the Wuse 2 head office of the EFCC around 10 am and was questioned under what a source in the agency called 'under caution' because of his 'complicity in the case.
A top source confirmed to Vanguard that Mr. Oklobia, who served as finance commissioner under Suswam was invited by the commission to defend allegations of diversion of public funds, abuse of office, embezzlement and fraud committed by them while in office.
The source said: "Oklobia arrived the EFCC office in Abuja at about 10 am where his statement was obtained under caution based on his complicity in the allegations of diversion of Benue State funds while they were in office."
The Spokesman for the EFCC, Mr. Wilson Uwujaren, however said that he could not confirm whether Suswam was billed to appear among the politically-exposed persons who had been summoned to appear before its operatives on corruption-related probe.
He promised to get back to our correspondent but did not do so as at the time of going to press.
It will be recalled that the Benue State Governor, Dr. Samuel Ortom, has already raised a Judicial Commission of Enquiry to probe ex-governor Suswam for alleged looting of funds running into hundreds of millions of money.
The panel, which is headed by a high court judge, is yet to deliver his verdict on Suswam and his administration.