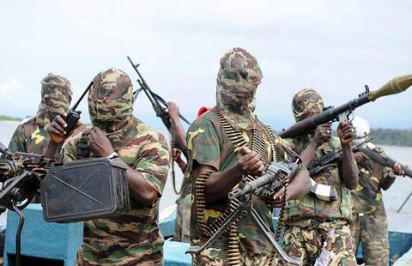 File: Militants before the federal govt amnesty programme
Former Niger Delta militant leaders, have declared that the December 2015 termination deadline set by President Muhammadu Buhari's administration for the amnesty programme is not feasible.
The ex-militant leaders, under the aegis of the Leadership, Peace and Cultural Development Initiative, therefore, demanded an extension of the programme.
The group made the declaration in Yenagoa, yesterday, when they met to review the Federal Government Amnesty Programme vis-a-vis the termination date, a statement by its National President, Pastor Reuben Wilson, said.
Wilson said though the performance of the Special Adviser to the President on Niger Delta Affairs and Chairman, Presidential Amnesty Programme, Brig.-Gen. Paul Boroh (retd.), was so far commendable, the timeline proposed is unfeasible.
He attributed the development to the lingering issues of non-payment of outstanding allowances and unfulfilled promises by the Federal Government.
Wilson said before the Federal Government could decide on a termination date for the Amnesty programme, it should consider the immediate release of the required funds for the payment of outstanding tuition fees of students in institutions of higher learning and training centres both at home and abroad.
He said, "The Federal Government should release timeously, the allocations to the Presidential Amnesty Office in order to pay the beneficiaries their monthly stipends on time. The Presidential Amnesty Programme should be extended beyond December 2015 as earlier envisaged as an expiry date.
"The incentives promised the ex-leaders of the various militant camps by late President Umaru Yar'Adua in form of lifeline, security, accommodation and mobility be fulfilled with immediate effect.
"The Federal Government should pay, with immediate effect, the three months outstanding payments for the Pipeline Surveillance contract awarded to the ex- agitators by the immediate past administration.
"The Federal government should also reconsider its termination of the pipeline surveillance contract and re-award same to the ex-agitators for proper and effective security of the pipelines.
"That the Federal Government should expand the PAP to include the Niger Delta youths in the creeks who are currently not included in the Presidential Amnesty Programme."
He, however, re-affirmed their confidence in the competent and pragmatic leadership of Boroh, saying he has the requisite experience and robust knowledge to effectively pilot the affairs of the amnesty office.