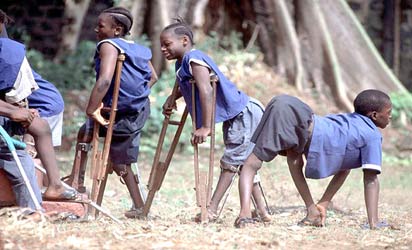 Polio kids victims
By Levinus Nwabughiogu
ABUJA – President Mohammadu Buhari has expressed happiness on the delisting of Nigeria as a polio endemic country by the World Health Organization, WHO, vowing to maintain the status.
The president also stated that his government was committed to completely eradicating the disease in 2017.
He spoke at a ceremony to mark the delisting of Nigeria from polio endemic list at the presidential villa in Abuja.
President Buhari further stated that the presidential task force on the disease would be reconstituted to meet the target in 2017.
He said: "It is with great pleasure that I receive you and your team today on this very happy event,marking more than a year in which no polio case was reported in our country.
"For 14 consecutive months,Nigeria has not recorded any new case of polio virus.This, as I had been briefed, is the first step towards certification of Nigeria as polio virus free country by WHO in the next two years.
"This achievement, I recall, also resonated at the 70th UN General Assembly when the Director-General of WHO, Dr. Margaret Chan, mentioned it. I therefore commend WHO for their consistent steawardship in Global Health Security
"As you are aware our, effortsto to eradicate this crippling disease started in 1998.It has taken a lot of toll on our country in terms of human and material resources. We are however not relenting as we are determined to achieve our collective goal of saving our children from further paralysis from polio.
"I want to assure you that there will be no complacency, as we will maintain and improve on our surveillance system as well as raise the childhood population immunity against the polio virus to avoid any spread of the disease.
The federal government will sustain the current momentum and we shall continue to regard this campaign as an emergency until we are declared polio free in the next two years.
"I would like to reiterate the federal government's commitment towards the achievement of a polio free Nigeria in 2017. The Government will sustain the needed funding for operations and vaccine procurement for the programme.
"Also, the Presidential Task force on Polio Eradication will be reconstituted under the leadership of the Federal Ministry of Health to provide political direction and oversight in order to avoid complacency and relapse."
The president also thanked the WHO, Bill and Melinda Gates Foundation and other partners that have consistently showed concern on the eradication of polio virus in Nigeria.
"I would like to place on record my recommendation for the vaccinators, community mobilizers, partners, parents and caregivers who have supported the polio eradication initiative of Government through the years.
"I would like to commend the support of our traditional and religious leaders who have contributed immensely to the polio eradication efforts. By the same token we thank development partners, particularly WHO, UNICEF, Bill & Melinda Gates Foundation, USAID, US-CDC, Rotary International, and a host of others who contributed financially and materially to the over-all efforts", he said.
In her remarks, the Director-General of WHO, Dr Margaret Chan, who was represented at the event by WHO Regional Director for Africa, Dr Matshidiso Rebecca Moeti, attributed the success to the contributions and contributions of all relevant agencies, urging Nigeria to ensure that no child got paralyzed in next two years.
"However, it is very clear that even though polio transmission in Nigeria has been interrupted, we still have a long road to travel towards its eradication. We must ensure that in the next two years no child is paralysed due to polio.
"Therefore, there is need for the efforts and investment to continue in order to sustain the gains; to ensure that at the state level, local government areas chairmen are fully involved in supporting polio campaigns; and to ensure timely disbursement of the state's counterpart funds to guarantee good quality campaigns,'' she said.
She recalled that the Country Cooperation Strategy between Nigeria and WHO has provided WHO the areas to give necessary technical supports until end 2019, saying that the WHO Regional office for Africa has articulated a five-year transformation agenda aimed at enhancing the performance of the WHO Secretariat in support of its member states.
Also speaking, the Executive Director of National Primary a Health Care Development Agency, Ado Muhammad in a presentation on polio Eradication Initiative outlined the challenges the country may face in its determination to completely eradicate polio.
He stated that the country may have to expend $155 million in 2016 and $249 million in 2017 to achieve the objective.