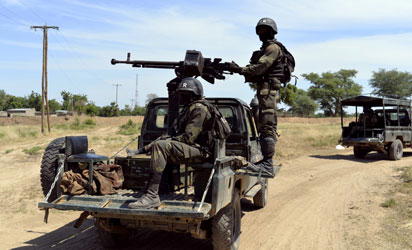 File: Cameroonian soldiers patrol on November 12, 2014 in Amchide, northern Cameroon, 1 km from Nigeria. The city was raided by Islamists from Nigeria's Boko Haram, killing eight cameroonian soldiers and leading the population to flee on October 15, 2014, before another six coordinated attacks that killed at least three civilians in the remote north of the country, on November 9, 2014. Boko Haram's five-year insurgency in neighboring Nigeria has left thousands dead, and the Islamists have occasionally carried out attacks over the border. Cameroon has deployed more than 1,000 soldiers in the extreme northeast of the country to counter the Islamist threat. AFP PHOTO
The Cameroon army late Friday retook Kerawa, a town in the far north of the country that was briefly seized by Boko Haram jihadists, security sources said.
"They pulled out after the troops arrived. There hasn't been any more fighting," a source said, while another said the Islamist group had "fled" to neighbouring Nigeria.
Kerawa, a town of 50,000 inhabitants, was taken by Nigeria-based Boko Haram early Friday, and sources said an unspecified number of civilians had been killed in the assault.