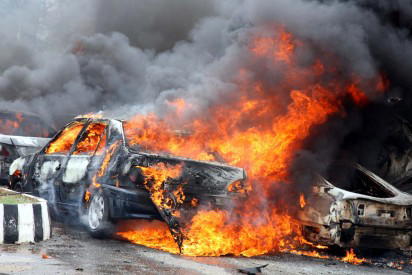 File Photo: Gombe presidential rally Car-Bomb-Blast in 2014
Maiduguri (Nigeria) (AFP) – Multiple explosions were heard Sunday, on the outskirts of Maiduguri, a city in northeastern Nigeria that has repeatedly been attacked by Boko Haram Islamists, locals said.
They said loud explosions were heard from the areas of Kayamla and Dalori, three days after Maiduguri was attacked by the insurgents, leaving 10 dead and many more injured.
"The sound of bomb explosions is being heard from Kayamla and Dalori along Bama Road since around 7:00 am today," said Kursi Yusuf, an employee at the nearby University of Maiduguri.
"We are not sure whether the terrorists are planning to invade the town but the sound vibrating is devastating," he said.
Khadija Mustapha, a resident of Dalori Quarters, 11 kilometres from Maiduguri, said she had fled her home with her three daughters for fear of being caught in the explosions.
"I don't know what will happen. The sound of the explosives is really disturbing," she said. "Many of us… have vacated our homes."
A military officer who did not want to be named confirmed the series of blasts but said troops were on top of the situation.
"The terrorists will not have their way," he told AFP.
Boko Haram has repeatedly attacked Maiduguri with at least 10 people killed and 39 others injured on Thursday night when four suicide bombers blew themselves up in the city.
On September 20, some 117 people were killed in a wave of attacks blamed on the Islamists.
On Saturday in Nigeria's capital Abuja, at least 18 people were killed and 41 wounded when multiple blasts rocked the crowded Kuje and Nyanya districts of the city.
Nigeria's military has claimed a series of successes against Boko Haram in recent weeks, which has led many to fear an increase in attacks against civilians in the restive northeast.
The conflict has claimed more than 1,260 lives in Nigeria alone since Muhammadu Buhari took office as president on May 29, according to an AFP tally.
At least 17,000 people have been killed and more than 2.5 million made homeless since the Boko Haram insurgency began in 2009.