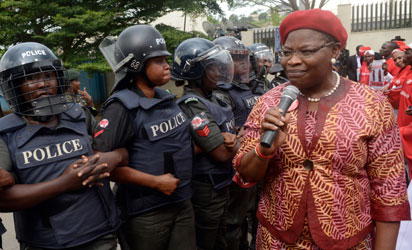 Leader of the #BringBackOurGirls campaign Oby Ezekwesili speaks as policewomen block supporters of the 219 Chibok schoolgirls kidnapped by Boko Haram militants from marching to the president's official residence in Abuja on October 14, 2014. Nigerian police on Tuesday blocked supporters of 219 schoolgirls kidnapped by Boko Haram militants from marching on the president's official residence on the six-month anniversary of the abduction. A wall of female officers in full riot gear formed the first line of a barricade in front of less than 100 members of the Bring Back Our Girls campaign, preventing them from setting out.AFP PHOTO
Apparently disturbed by the rising spate of bombings by the deadly Boko Haram terrorist sect, erstwhile Minister of Education, Oby Ezekwesili, on Thursday, charged the President Muhammadu Buhari-led Federal government to immediately revamp the nation's intelligence architecture, as well as review its counter-insurgency strategy.
Ezekwesili who took to her Twitter handle, @obyezeks, to express her dismay over Thursday's night bombing of a mosque in Maiduguri said: "Bomb Blast: No! The Federal Government must swiftly revamp our Intelligence architecture and review counter-insurgency strategy to make it Intelligence-led.
"May God comfort the families of latest victims  and give them peace. We pray that soonest, Nigerians shall say, 'This too has passed.'
"Hope keeps us looking to the end of December deadline to terminate menace of terror. We direly need to achieve it. It can be done," she said.
Recall that a recent AFP tally puts the death toll at more than 1,320 in Nigeria alone, since Buhari became president on May 29.
Nigeria's military has claimed a series of successes in recent months and has characterised the upsurge in attacks on civilian targets as desperation on the part of the Islamic State group-allied militants.
President Buhari has in turn repeatedly assured that the Boko Haram menace will be brought to an end by December this year.