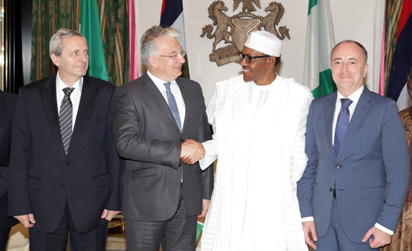 R-L; Deputy State Secretary of Hungary Government, Mr Szilveszter BUS, President Muhammadu, Deputy Prime Minister /Deputy Head of Government of Hungary, Mr Zsolt Semjen and Col Rokusz Laszco during a courtesy visit to the State House in Abuja OCT 23 2015.
The Vice Prime Minister of Hungary, Mr. Zsolt Semjen, on Friday promised his country's readiness to help Nigeria end the activities of Boko Haram.
A statement by the Special Adviser to the President on Media and Publicity, Mr. Femi Adesina, quoted Semjen as giving the assurance, when he and other top Hungarian government officials met with President Muhammadu Buhari at the Presidential Villa, Abuja.
He said terrorism was a global challenge and pledged that his country would support the Nigerian Armed Forces' efforts to end the Boko Haram insurgency.
He did not give specifics of the promised assistance.
"The extremism of Boko Haram is not Islamic. It runs contrary to all human philosophies," the Vice Prime Minister said.
He also promised that Hungary would deploy its expertise in the area of agriculture to assist Nigeria.
Semjen was said to have congratulated Nigeria on its last general elections, and added that Hungary looked forward to signing agreements with the country on more bilateral cooperation.
Buhari said he looked forward to increased bilateral cooperation between Nigeria and Hungary, since both countries had a lot in common.
He added that his administration would welcome the strengthening and expansion of cooperation between both countries in the areas of security and agricultural development.
"Hungary faces some immigration challenges today, just like other parts of Europe. We also have our challenges in the North-Eastern part of Nigeria.
"Hungary is able to fully understand our problems, and we can work together," the President said.