By Gabriel Olawale
Exactly a year ago, 14-year-old James Musa had no inkling he would not live to celebrate his 15th birthday, neither did Aishat Opakunle, 21, realise that her dream of becoming a computer engineer would be dashed in the twinkling of an eye. These promising Nigerians  who  lived at Mologede Estate, in Meiran area of Lagos, were cut down by bites from a rabid dog in their neighborhood.   They resided in the same environment with the same dog that bit them to death.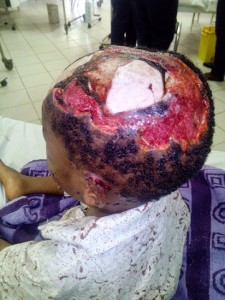 They were used to the animal, saw it daily, and often played with it. But something suddenly went wrong. Musa and Aishat did not notice that the dog had changed and was behaving strangely. Even after they were bitten, neither was bold enough to inform their parents. Rather they kept it secret.
By the time they eventually opened up about what happened, they had come down with rabies symptoms. It was sad because once a person is symptomatic for rabies, treatment is ineffective. All the families could do was wait for Musa and Aishat to die. Musa, who just passed his Junior Secondary School Certificate Examination, died of rabies infection in a most gruesome manner.
Narrating the incident, his aunt, Mrs. Racheal Daudu, expressed sadness at the turn of events. She said Musa did not disclose the reality of what happened until after the death of Aishat. "Musa did not confess until one month after Aishat died. Then he complained of headache and fever and we gave him some drugs. That was the Tuesday that followed the Friday on which Aishat died. He even went out to play football that same day.
"But when I came back, I met him lying down. We rushed him to the hospital, but it was too late. He started saying nonsense. He was my sister's son. He came to live with us," she recalled. Similar case was that of an adult banker who on his was home in 2012, was bitten by dog. He didn't take it serious, he just clean the wound and few days afterwards presented with rabies signs. Before long, he died at the Lagos University Teaching Hospital.
As the number of dogs continue to increased in the community, so have the number of cases of dog bite victims. Between 2014 and 2015, more than 30 cases of dog bites were reported in the media aside those that were not reported.
On September 25, 2015, the case of 4-year-old Omoniho Isaac Abraham, whose skull was torn apart by a dog that attacked him in Igando area of Lagos was reported. On August 21, 2015, Mrs. Maureen Akowe lost her 4-month-old baby who was attacked and killed by her dog in Asaba, Delta State. A 45-year-old commercial driver, Saturday Akpomose also narrowly escaped death after being attacked by seven dogs at Ajah area of Lagos State.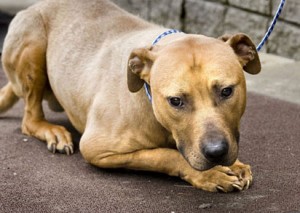 Reacting to the uncontrollable cases of dog bites in the country, the Chairman, Nigeria Veterinary Medical Association, NVMA, Lagos state chapter, Dr Alao Mobolaji, said that  death from rabies can be prevented with simple vaccination which costs averagely N3,000 and covers the dog for a year.
"Rabies kills faster than AIDS. It is a disease  people have to be very careful with, and the major carrier of this virus is the bat while dogs are the main natural reservoir of the rabies virus. They are the main culprits being the closest to man. "As soon as you see the first symptoms of rabies, even the very first – a tingling in the hands or a child becomes slightly disoriented – death is inevitable," said Mobolaji
He regretted that across the country many of the dog-transmitted human rabies cases go untreated and unreported as a result of the absence of a rabies control programme, inadequate laboratory capacity, lack of surveillance and funding, and poor collaboration between human and animal health sectors.
"In Nigeria, the only institution equipped to carry out proper rabies diagnoses in dogs is the National Veterinary Research Institute, Vom-Jos, Plateau State." Mobolaji said that in the case of Musa, the hospital exhumed the dog's corpse for medical examination. "The sample was sent to the National Veterinary Research Institute in Jos, Plateau State and the confirmatory result showed that the dog, indeed, had rabies," he added.
He said it is important to get dogs vaccinated annually to keep them protected against rabies, but when a person becomes a victim of dog bite whether or not such dog has rabies or not, the first thing to do is to wash the spot with soap and running water before presenting it for proper treatment.
"In the course of treatment, the person will be subjected to post exposure management on days zero, three, seven, 14 and 30. If the dog does not die before day 14, the victim can skip days 14 and 30 and that means the dog does not have rabies so they can just treat it like a normal wound." Further, he explained that if the dog in question dies, the bitten person must take the full dose of the recommended drugs which gives such person a very good chance of survival.
"But once the clinical signs of rabies start manifesting beginning with fever, there is no known cure that can prevent death," he added. Mobolaji however called on Government to consolidate review of existing dog laws in the state and introduction of leash laws to encourage responsible dog ownership. "Proper equipping and mobilisation of the stray animal rescue unit of the state veterinary department to encourage the easy removal of all stray dogs from our environment is desired," he noted.
A study to determine the prevalence of rabies antigen in brains of dogs slaughtered for consumption and those that died in veterinary clinics in the state, revealed that a total of 196 dog bites/suspected rabies cases were encountered between January 2006 and December, 2011 in veterinary clinics. Majority (96.43 percent) of the offending dogs were not quarantined at the time of bite and only one out of the quarantined dogs died and was confirmed positive for rabies antigen.
The result of the study indicated that rabies antigen is present among dogs in Lagos State and may pose a threat to public health. Records showed that provocation was the major cause of dog bites and both children and adults fell victim of dog bites. Annually, rabies kills 50,000 to 55,000 people globally with children been the most vulnerable.
Worldwide, there is about 1 rabies death every 15 minutes. For World Rabies Day, 28 September, a reported story from Malawi was featured by the World Health Organisation. It was a reminder that once rabies symptoms appear, the disease is almost always fatal. However, rabies is a vaccine-preventable disease. And vaccinating dogs is the most cost-effective strategy for preventing rabies in people.
Another animal doctor, Dr. Eddysn Ugwueze also expressed concerns about the indiscriminate rate of dog ownership without commensurate monitoring efforts from government. He called on relevant authorities to establish an animal registry and a tagging system as a precondition for pet ownership in the state.
"People are not sincere with the responsibility that goes with keeping pet in their home generally, people think they can just keep pet without oversee their welfare. People need to ask themselves whether they actually have time to keep the pet and give all the attention.
It is so depressing that people take custody of pets and at the end the pet become miserable, even when brought it into my clinic, I  confront them openly that is not compulsory to take custody of an animal if you feel that you don't have time for it. It does not have much to do with money because there are some basic things that people had failed to do like feeding, healthcare, vaccination among others.
Data from WHO revealed that rabies transmitted by dogs has been eliminated in many Latin American countries, including Chile, Costa Rica, Panama, Uruguay, most of Argentina, the states of São Paulo and Rio de Janeiro in Brazil, and large parts of Mexico and Peru. While the disease still occurs in more than 150 countries and territories.
"Infection causes tens of thousands of deaths every year, mostly in Asia and Africa. 40 percent of people who are bitten by suspect rabid animals are children under 15 years of age. Immediate wound cleansing with soap and water after contact with a suspect rabid animal can be life-saving. Every year, more than 15 million people worldwide receive a post-bite vaccination to prevent the disease; this is estimated to prevent hundreds of thousands of rabies deaths annually.