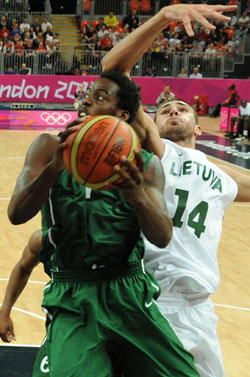 Nigerian forward Al Farouk Aminu (L) vies with Lithuanian centre Jonas Valanciunas during the Men's preliminary round group A basketball match of the London 2012 Olympic Games Lithuania vs Nigeria on July 31, 2012 at the basketball arena in London. Lithuania won 72 to 53.AFP PHOTO
The much awaited FIBA Africa Zone 3 qualifiying tournament for Men and Women has been confirmed for Cotonou, the Republic of Benin following the acceptance of the Fédération Béninoise de Basketball to stage the event billed to commence from November 4 – 12, 2015.
Confirming the date over the weekend, President of the FIBA Africa Zone 3 executive board, Col Sam Ahmedu (Rtd) stated that the event will hold in Cotonou, Benin Republic thus ending speculations that have been making the rounds for several months regarding the venue for the eliminations.
The Zone board President expressed happiness that a federation eventually picked the hosting for the eliminations stressing that the Zone would lost the chance of her teams in the finals proper billed for Angola.
He stated that the Zone Qualifying Tournaments for the FIBA Africa Champions Cup 2015 (Men & Women), were slated for the month of October, 2015. "FIBA Africa sent the requisite Forms for National Federations to bid to host their respective Zonal Qualifiers.
While other FIBA Africa Zones, through one of their National Federations, have concluded their Zonal Qualifiers, despite verbal promises from some Clubs and National Federations in our Zone, none offered to host these Tournaments as at 13th October, 2015."
"But Benin Basketball Federation have offered to "host" the Male and Female Qualifiers for the Zone under FIBA Zone 3 supervision. The Qualifiers (Male and Female) will jointly take place in Cotonou from 4th – 12th November, 2015."
According to him only 8 men's teams and four women's teams have so far confirmed their participation. Two teams from Nigeria namely Mark Mentors of Abuja and Kano Pillars and two Women's teams namely Dolphins of Lagos and First Bank also of Lagos will fly the country's flag.
A request for a Wild Card for a third Nigerian Men Team was however not accepted on the advice of FIBA Africa. The other teams are Ghana – 2 men's teams, Burkina Faso – 2 Men's teams and one women teams, Benin – 1 men & 1 Women Teams, Liberia – 1 Men & 0 Women Team. Nop teams from Togo, Niger and Cote D'Ivoire.
All teams are expected to arrive Cotonou on November 4, 2015, the same day the technical meeting is expected to hold.