Barely 24 hours after the Chairman, Senate Committee on Business and Rules, Senator Babajide Omowarare (APC-Osun East), backed out of  the vote of confidence given to the leadership of Senate President, Dr. Bukola Saraki, by 83 Senators, another Senator, Sabo Mohammed Nakudu representing Jigawa South-West Senatorial District, has also purportedly withdrawn the said endorsement.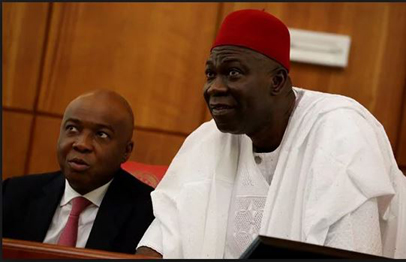 Nakudu in a widely circulated press statement said to have been personally signed by him, on Wednesday, said he wasn't consulted before his name was included in the names of senators who signed the vote of confidence on Tuesday.
Vanguard had Tuesday, published the list of 83 senators who endorsed Saraki and Ike Ekweremadu-led senate. The list had had the names of 48 Senators from the opposition Peoples Democratic Party (PDP) and 35 from the majority All Progressives Congress (APC).
According to the list, Senator Nakudu's name was on No 41.
See the list here
However, in what looked like a backtrack, Senator Nakudu said he wants to assure his constituents and the general public that he is a loyal party man and loyal to his party the All Progressives Congress (APC).
With this development, it remains 82 Senators whom have endorsed the incumbent leadership of the upper chamber of the National Assembly.
See a copy of Senator Nakudu's purported statement below: