By Monsur Olowoopejo
Lagos State Governor, Mr. Akinwunmi Ambode, has ordered a halt to the ongoing demolition and forceful eviction of over 15, 000 persons from their homes at Ijora-Badia East in Apapa-Iganmu Local Council Development Area, LCDA.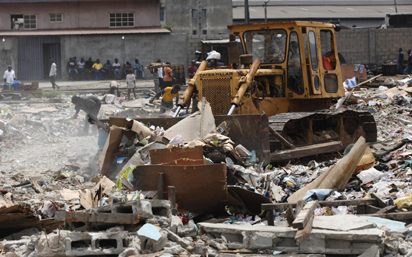 The demolition which commenced on Friday, September 18, 2015 was sequel to a Lagos High Court judgment delivered March 2014 by Justice Alogba. The court ruled that the royal families of Ojoras own the disputed land.
Ambode, who spoke at a meeting in Alausa, said that the Oba of Ijoraland and head of the Ojora family, Abdulfatai Aromire should stay action on the demolition and asked the affected to liaise with the Ojora family, reaching an amicable resolution of the dispute.
Ambode, who was represented by the Permanent Secretary Ministry of Local Government and Community Affairs, Mr. Jafar Sanuth, gave both parties 30 days to resolve the issue.
"Government cannot mediate on sentiments. All documents presented by the evictees are temporarily documents and we should not forget that the family (Ojoras) had gone to court and the Judiciary, an arm of the government issued a judgment on the said matter.
"We are only mediating and in a bid to ensure that both parties do not feel aggrieved, we are giving both parties 30 days to meet and resolve the issues on the disputed land.
"We pray that you resolve the issues but in a situation where both parties cannot reach judgment, the government will look into how to help both parties reach a common ground," the Governor said.