By Emmanuel Asuquo
Opeyemi Adesanya is the founder of Bridge-D-Gap initiative, an adolescent counselling and mentorship outfit that mediates between young persons and their handlers. It advocates for the rights of children in Nigeria.  An International Law and Diplomacy graduate of Babcock University. She has trained over ten thousand students across Nigeria.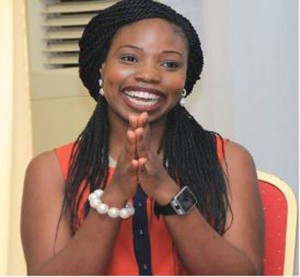 Opeyemi was appointed the Ambassador plenipotentiary of the Russian Embassy, Babcock University Chapter. She has done some projects with some notable organizations including the United Nations Population Fund. In this interview with Vanguard, Opeyemi lets us into her world of adolescent advocacy, her work at Bridge-D-Gap initiative and other aspects. Enjoy.
Bridge-D-Gap initiative
Bridge-D-Gap initiative is an educative mentorship group which seeks to improve child, adolescent and youth development through technical workshops addressing basic transitional issues encountered by young individuals during puberty.
Our duty is to educate and empower young individuals with information that will inspire them to make informed positive and productive decisions in life. It runs with the following departments:
Department of Child-Parent Synergy; Re-connect Department; Youth Development Department; Child Right Department; Humanitarian Department. We organize workshops for school students, teachers and corporate organizations on etiquette and other social development principles.
What distinguishes Bridge-D-Gap initiative from others?
Bridge-D-Gap partners with professionals in their respective fields and links them up with adolescents in aspiring related fields on a mentorship platform in order to make the dreams of the young aspirants more feasible and attainable. We also mediate between adolescents and their handlers (parents, teachers and guardians) especially when there are consistent misunderstandings.
Our mediation process are in three stages; we first hear the parents/guardians' complaints, then we invite the adolescent for hearing, then at the final stage, we merge both parties and point out the flaws leading to set backs and counsel on the way forward.
At Bridge-D-Gap, we understand that parents and teachers have a huge role to play in the lives of young individuals, so it's important that both parties get along. This is why we organize workshops on practical and effective ways to communicate, manage and correct adolescents for teachers and adolescent handlers.
Impacts of Bridge-D-Gap
We have trained over 10,000 students in about 16 (Lagos and Cross River states) public and private secondary schools; we have also organized counseling programs for four orphanage homes in both states.
On what inspired her to start this initiative
The world is full of young people with many questions but very few individuals to provide the right answers. So, they ask the internet and music videos, and probably friends who are as confused as they are, because they lack good relationships with their parents and teachers and this is the gap I breathe to bridge every day.
I wanted young people to have better relationships with their parents/guardians. So, they can have mentors who will put them through as they make delicate decisions in life. I also wanted to be that individual that children and adolescents could tell anything to and will be certain of a solution.
On her external and internal motivations
My greatest internal motivation is to see a child improve. I get so many calls from parents, telling me "thank you" for mentoring their children. It's amazing how a little encouragement can  transform the attitude of a young person. Two months ago, one of the adolescents I mentor spoke  on a radio program on how he battled with sex and pornography from the age of 8, and how he  contacted me after 7 years of his moral struggle, and testified that bridge-D-Gap had been  extremely helpful and how he has been able to overcome those vices.
He is now a very close  friend and his transformation still baffles me. His story has been a major reference point and  encouragement to me as he now mentors some of his peers. I am surrounded by a great team of vibrant young individuals who support all my projects and  criticized me when I deviate from my vision, this team has been a deep source of inspiration and  a gift to get work done.
My favorite motivation are my parents, if they weren't awesome mentors  themselves, I wouldn't be the person I am today. There are moments I return home late or travel for work but they totally understand and are ever supportive.
What's up the sleeves of Bridge-D-Gap Initiative?
We are currently selecting five orphanage homes to start a career mentorship and networking  series, we are also working towards organizing a workshop on children and adolescent communication for secondary school teachers in Lagos state.
On Challenges so far
My greatest challenge, is penetrating the public educational system, because several people have been deceptive and have used schools to get grants and funds without implementing any impactful activity, so this makes schools un-cooperative because they believe you want to use  them for selfish reasons even when you have a genuine plan.
Words for those you care about
Regardless of your circumstances and background in life, you are responsible for the kind of  choices you make, so connect with positive people, who are doing positive things and impacting  you in positive ways so they can influence you to do the same.