By Ikechukwu Nnochiri
ABUJA—The Abuja Division of the Court of Appeal, yesterday, okayed accelerated hearing on the suit lodged before it by the Senate President, Dr. Olubukola Saraki.
Saraki, in his appeal, is challenging the legal propriety of the 13-count criminal charge the Federal Government preferred against him before the Code of Conduct Tribunal, CCT.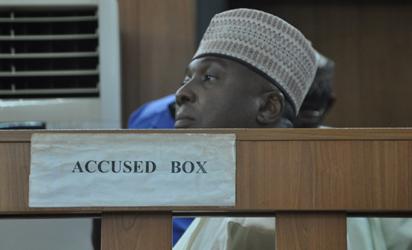 He had also gone before the appellate court to query the constitutionality of the warrant of arrest earlier issued against him by chairman of the CCT, Justice Danladi Umar.
Besides,  the embattled Senate President, through his team of lawyers led by a former President of the Nigerian Bar Association, NBA, Mr. J.B. Daudu, SAN, wanted the higher court to ascertain whether the Justice Umar-led panel subscribed to the appropriate legal procedure when it ordered him to mount the dock and enter his plea to the charge despite preliminary objections against his trial.
It will be recalled that the appellate court had on September 21, declined to stop Saraki's trial.
However, it  directed that a copy of Saraki's appeal should be served on the Federal Ministry of Justice, the Chairmen of the CCT and Code of Conduct Bureau, all cited as respondents in the matter.
Meantime, hearing  on the  appeal was stalled following  the death of the Presiding Justice of the Abuja Division of the Appeal Court, Justice Abdulkadir Jega.
Justice Jega and Justice Musa Alkali of the Ilorin Division of the court were among over 700 pilgrims that died during the stampede that occurred in Saudi Arabia.
At the resumed proceeding, yesterday, the appeal court granted accelerated hearing on the matter which it adjourned till October 16.