By Chimaobi Nwaiwu
Nnewi—Presidential  Committee on Small Arms and Light Weapons, PRESCOM, stakeholders' sensitization forum, held at Enugu for South East zone, has revealed that about 60 per cent of the illegal arms in the zone are produced locally.
Professor Aloysius Okolie, who is the South East coordinator on House Survey, of PRESCOM,   made the revelation during a two-day stakeholders' sensitization forum on the comprehensive national Small Arms and Light Weapons, SALW,  survey in Nigeria,at Villa Toscana Hotel, Enugu.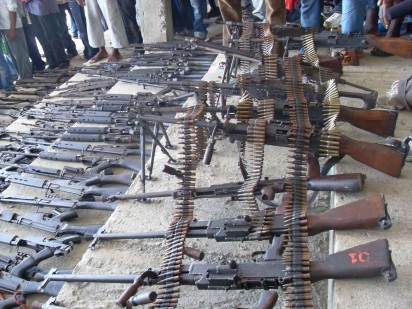 He said that  60 per cent are fabricated locally in Nigeria and "some communities are known for their natural fabrication of arms," adding that politicians were part of  arms proliferation in the area and most of the political leaders helped in the importation and fabrication of arms.           The sensitization forum tagged, 'All Hands on Deck,' also revealed that "40 per cent of the arms are imported by the political leaders and the rest 60 per cent fabricated within the zone."
According to him: "The essence of the survey is not for the government to embark on   disarmament,  but to find out those factors that motivate people into acquiring such arms and sources of the arms."
Earlier, the PRESCOM coordinator, Mr. Dickson Orji, stated that the essence of the forum was to give room for information and interaction on how to curtail proliferation of small arms and light weapons in the country.
"It will create awareness on the socio-economic impact of illicit small arms and light weapons proliferation in Nigeria and sensitize the Nigerian populace on the proposed comprehensive SALW survey in Nigeria.
"The forum will galvanize support for the survey team and enumerators to ensure collaboration at the grass roots for the success of the project," he stated.