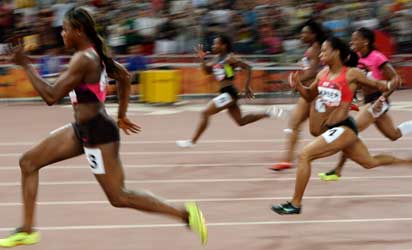 Nigeria's impressive performance in the women and men 400m remained the topic of discussion among Athletics Federation of Nigeria officials even as Patience George-Okon settled for silver, in a race she was primed to win.
Also Urukpe Eriyokan failed to find the form that saw him run 44. 95 in the semi-finals, he was placed sixth in the men's race.
The 400m races were keenly contested, after the semi-final heats produced some interesting performances from Eriyokan and Botswana's Isaac Makwala.
Also in the women, Okon-George who had the fastest time of the season heading to Games and Mupopo Kabanga held an attraction.
However, it was the Zambian who set herself free from pack in the last curve. Okon battled hard to keep abreast but Mupopo was moving too fast and strong, she finished 50.22 seconds to set a new national record for Zambia. Okon- George was second with 50.71 a personal best for the athlete. Namibia's T. Herunga clocked 50.35 seconds for the bronze. Nigeria second entry, Tosin Adeloye was Fourth with 51.30 season's best.
The men's race lived up to its billing. The athletes went off -in blistering start and by 200m it was plain that the field had no answer to Makwala's powerful strides, he coasted home in 44.35. Kenya's Boniface Mweresa was second while  Botswana's C. Nkolobo took third with 45.60 seconds. Nigeria's hopeful Eriyokan was left in the lurch as he settled for 45.73 seconds finish.
"I am so excited about the times they returned," said AFN president Solomon Ogba.There were medals for Nigeria in para athletes where Lovina Onyegbule won a sprint double. She clocked 12.60 and 25.27 respectively in the T 11 100m and 200m. Nigeria also won the discus gold and bronze.