By Joseph Erunke
Senator Ighoyota Amori, PDP Delta Central has been an active player in the political sphere in his native Delta State. In this interview conducted just before the Senate proceeded on annual recess, the senator frontally addressed controversies pertaining to the alleged jumbo pay of the lawmakers among others.
Excerpts:
Before embarking on your annual recess, you held a prolonged closed door meeting where it was learnt you discussed issues pertaining to your salaries and allowances. What really happened?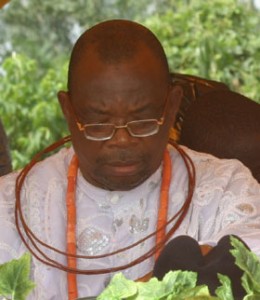 Well, what happened behind closed-door remains an issue behind closed-door. However, let me say here that there was a decision at the closed-door that the issue be stood down for more consultation.
Does that mean that the committee mandated to look into salaries and allowances of the legislators did not conclude its work?
No, the committee actually had a term limit and it submitted it's report based on the term limit. But in this case, we are discussing the National Assembly; it is not just the Senate. What we are discussing affects the entire National Assembly, so we need to go into consultation with our colleagues who are in the House of Representatives as well as other stakeholders.
Do we envisage a cut in the salaries and allowances?
Yes, but that has to be the decision of the entire National Assembly and not just me.
But are you thinking towards that direction?
Well, I can't say because whatever is my opinion now is irrelevant compared to the final decision of the National Assembly. Very soon, you would get to know because there is no big deal there, because the committee was instituted by the Senate.
It is said that the delay in the payment of your salaries is a result of the delay in the work of the committee. So, why are senators dragging the whole issue again?
We should be the ones in a hurry but it is good to drag it so as to get it right from the very beginning. Agreed, our salaries and allowances have not been paid but until it is properly done and agreed upon, it may not be rightly done.
So how has it been managing without salary?
First of all, for you to be a senator, you must have the wherewithal. Even people who are not on salary are still living, so for a senator I think it should not be a surprise. I think we are okay with ourselves. Other people working in government offices are being owed three, four or five months' salaries and they have not died.
What do you say to Nigerians who say your salaries are too much and should be reduced?
What is our salary? How much is the salary of a senator? Have you seen the salary of a senator? The real salary they are talking about is about N168, 000. Is that too much, I earned better before I became a senator. Far, far better than that!
What about the allowances, car allowance, house allowance and all that?
You see, wardrobe allowance is wardrobe allowance. Car allowance is car allowance and house allowance is house allowance. For me, I have not received any wardrobe allowance. I have not even really received a car allowance. But a car allowance is for car, electricity bill is for electricity bill, house allowance is for house allowance, domestic allowance is domestic allowance and tax is tax.
But the average man is crying over what you get?
Well, I am sure you have access to the budget, you have access to it. Go and check the basic salary of a senator. And when you are talking about the basic salary of a senator, talk about the basic salary of everybody, including the basic salary of a minister, the basic salary of a president, the basic salary of governor, the basic salary of permanent secretaries and other government workers.
So, don't take that of a senator and make unnecessary issue out of it. Can you compare the salary of a senator to the governor of the Central Bank of Nigeria or any other executive? Check very well if the basic salary of a senator is anything to worry about. I can tell you that I earned better than now, although I have not received any salary.
Is it true that PDP senators made the demand for juicy committees a precondition for their support for Senator Bukola in the leadership contest?
No, no, no, there is nothing like that, there is nothing like that at all.
The 8th  Assembly has been relatively laid back and as at now has not considered any bill compared to the 7th  Senate at the same time. Why?
The Senate was inaugurated on June 9th, which is just over two months ago.
So, two months in the life of a Senate that has a lifespan of four years is not enough to judge. Remember too, that most of us are new. You can even see that there is a high turnover rate of senators here; most of us are new here. So, we need to blend. We need to really understand the rules of the House;
we don't just rush into passing bills when people have not really come to appreciate the workings of the Senate. When you come to this place, you stand with one leg, no matter what you were before. So, we are lowering our second legs with all the motions. There must be a learning period and the learning process is almost being completed.