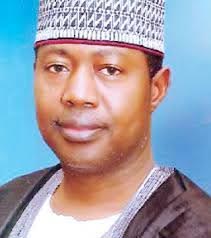 Salawu
Dr. Philip Salawu, a chartered accountant, entrepreneur and politician, was two-time deputy governor of Kogi State under former Governor Ibrahim Idris. In this interview, Salawu shared his views on burning national issues and why he defected to the Labour Party to actualize his governorship ambition.
By Kingsley Fanwo
As deputy governor to Idris for eight years, one would have thought you would emerge the next governor of the state. What went wrong in the 2011 succession struggle?
A lot of things were wrong. In fairness to my boss, the former governor, he wouldn't have minded handing over to any competent hand. But along the line, some people within the Peoples Democratic Party (PDP) believed the governorship of the state was an exclusive right of a particular senatorial district and others, including myself were shut out of the race. The array of people with intellectual depth who participated in that process was unprecedented in the annals of the state's political history. But for reasons best known to them, they left the willing and able to get the unwilling. The result is what we are facing today.
On insinuations that he is banking on power rotation to actualize his ambition
In my speech during the 2011 governorship primaries of the PDP, I told the delegates to shun ethnic jingoists and go for the best and most experienced for the job. I am not an ethnic champion.
Political determination
I am in this race because I believe I possess what is required to turn the fortunes of the state around. With my vision for Kogi State, coupled with my experience as deputy governor for eight years, I am the best for the job. Having said that, I want to appeal to Kogites to down play ethnic factors in political determination.
Kogi State belongs to all of us and we must come together to salvage it. This is the first time the state is having a realistic chance of electing a governor, who will be all out to make the state proud.
With Labour Party relatively unknown in the state, don't you see your ambition of using it as your vehicle to Lugard House is a tall dream?
It is not true that Labour Party is unknown to the people of Kogi State. People have been contesting elections on the platform of Labour Party in the past and I want to say the awareness is quite high.
Also, it is the party of workers and in every election, workers constitute a critical segment that determines how the election would be won or lost. People know me to be a pragmatic leader, a seasoned administrator and a man of integrity. The November 21 election is not going to be about party, but personality. Kogi deserves fresh ideas.
How do you hope to upstage the established forces in the race such as Gov. Idris Wada and Prince Abubakar Audu?
You didn't mention Dr. Philip Salawu and I am surely one of the established forces. Prince Abubakar Audu has won elections as governor of this state twice but went ahead to lose in four consecutive elections.
That shows his establishment is fast fading away. The people know why they have been rejecting him since 2003. Capt. Idris Wada has not done much for the state and that is giving him bad publicity among prospective voters. A sitting governor is supposed to have a lot of political capital to win elections. Unfortunately for the incumbent, such political capital is missing. What is the situation of our roads in Lokoja? Are workers being paid regularly? What is the condition of our infrastructure in the state? These are the issues that will shape the next election. With card readers and better awareness among the people, incumbency without performance is a political curse.
What will you do differently as governor of Kogi State?
I will work with Kogi workers to fix the state. For any government to succeed, workers must be highly motivated to contribute to development.
The man at the Water Board won't be enthusiastic to give water to the people if he has not received salaries for five months and his family is in excruciating starvation. My priority is to have a highly motivated workforce that will support my government to succeed. My government will pay salaries and pensions promptly.
There won't be delay in the payment of gratuities. Promotion of deserving workers would be regular and my government will ensure capacity building through training, seminars and clinics to boost efficiency. From there, we will look at our infrastructure.