The Senate   has called on the International Community to support Nigeria in her efforts to reposition and grow the economy. This call was made by a Senate delegation at separate bilateral meetings with German and French delegates during the just concluded 4th UN International Conference for Heads of Parliaments in New York.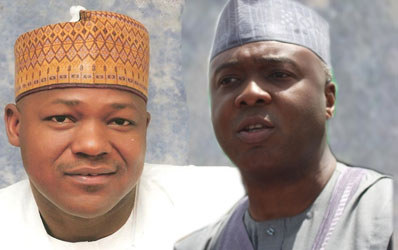 Members of the delegation led by the Senate President, Dr. Abubakar Bukola Saraki, included the Chairman of the Senate Adhoc Committee on Media and Publicity, Senator Dino Melaye and Senator Andy Uba (Anambra South).
Saraki in the first bilateral meeting with his German counterpart, Volker Bouffier, the Minister-President of Hesse, stressed the need for Nigeria and Germany to work together in increasing the trade volume between both countries.
He stated that the present administration in Nigeria is concerned about shrinking revenue from oil and hence the need to diversify the economy  through creation of global partnerships and attraction of direct foreign investments.
"Nigeria needs the support of the International Community to grow and reposition the economy made worse by the dwindling price of oil at the international market," the Senate President said.
In his second meeting with Laurence Dumont, the Socialist Deputy of Calvados, and the Vice-President of the National Assembly of France, Saraki reiterated the need for international support and enabling laws to help Nigeria repatriate illicit funds that were moved out of Nigeria through corrupt practices.  He told the French parliamentary delegation that the move would support the efforts of the present administration aimed at boosting the economy of the country.