The story of Madeline Stuart, an 18 year old aspiring model from Brisbane, Australia living with Down Syndrome, indeed, shows that there is ability in disability.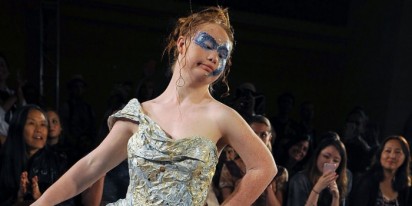 As with many people with Down Syndrome, Maddy, as she is fondly called, had over the years, struggled with her weight for a long time. But last year she decided to get healthy and chase after her dreams.
Advocating for change in the way people discriminate against disability, Maddy who wants people to know that Down Syndrome is a blessing, something to be celebrated, became the second person ever with Down syndrome who walked the New York Fashion Week runway.
Modelling for FTL MODA on Sunday, the Australian model put herself on the map. She was discovered earlier in 2015 after sharing modelling photos on her Facebook and instagram pages.
On Sunday, she wore a print tank top and a pair of shorts. Before then, she also wore a white gown which also designed by Hendrik Vermeulen​.
Last season, American Horror Story actress Jamie Brewer​ became the first person with Down syndrome to hit the New York Fashion Week runway.
See more photos posted on her instagram page madelinesmodelling_