By Dr. Ugoji Egbujo
At some point we must all learn to detach ourselves from emotions , sentiments and political pornography and focus on guilt and innocence, on objective facts and procedures
Everybody wants to be seen to be fighting corruption. Isn't this the dispensation of anti –corruption? And since our vain religiousity has left us with a faithful devotion to make-believe, those who learn the rituals early and mouth the right incantations may put themselves beyond condemnation.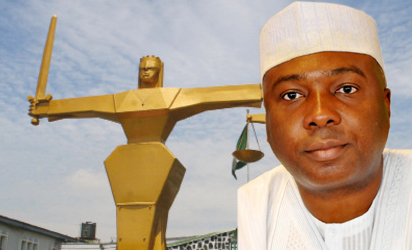 Nigeria, the land of modern day Pharisees. So Fayose woke early one morning and shut out latecomers in Ado- Ekiti in an attempt to secure a sitting position on that moral high ground. Poultry matters notwithstanding. His obsequious victims, truant civil servants, helpless against a sovereign, abased themselves, groveled at the feet of the one reveling in a new 'fame'.
In the spirit of anti corruption or the manipulative usurpation of that fad, Lagos state took on Fashola. A feud between a son and his father in Lagos nearly degenerated into a rumble in the mud. Father said he cannot be afraid of the growing reputation of his son but he didn't tell us who dug deep and washed some dirty linens of his son in public under his nose.
In a fit of pique, the son threw the parable of 'filth and pigs' but refused to take on the father, resisted the temptations of those who egged him on to put the father beyond public redemption. He swallowed his pride , no one knows if he is still regarded worthy of his seat in the anti corruption assembly. Time will tell. Because these half- hearted "its ok now" reconciliations often cannot undo the damage already done to reputations . A shattered or tattered reputation , ordinarily, has no 'nmekwatarism' as the Igbo would joke.
When the EFCC emerged from slumber and rushed out with their vuvuzela and charge sheets to join the anti corruption choir many felt that such sudden, new found, over-zealousness cannot be altruistic. It could be altruistic if the pervasive cluelessness and permissiveness of the past regime made everyone including the watchmen somnolent.
If however the earlier slumber was induced or complicated by sleaze, then perhaps, the otherwise cynical interpretation that practiced dissemblers are now at work, making a mockery of the rule of law, has merit. For though they could be, they do not have the contriteness of new converts. Selfish interests aren't bad but they must not predominate and adulterate judgments of public officers because when brutes pursue survivalism, the system is imperiled.
Private interests have now usurped centre stage and the suffering masses have been tragically co-opted to cheer and boo . Reality can be stifled and falsified. The drama that was the invitation of Saraki's wife by the EFCC could not have been better timed. No scruples when the gloves are off, I guess. A warning shot to discourage the Oloye's son from developing any ideas of triumphalism.
No one knows how much the rambunctiousness of Dino Melaye may have frayed nerves further by suggesting remorselessness and defiance. Treachery, they say, invites all sorts. Intractable defiance calls for the hammer. Many knew that Saraki's impudence had earned him an unforgivable penance. So when Saraki retaliated by encouraging a senate probe of the EFCC chairman instigated by 'concerned' proxies , his presumed impenitence was perhaps confirmed.
He chose the path of confrontation rather than submission. Some daggers once drawn cannot be sheathed without consequences. Some say any consummate politician would have swallowed his pride and tendered an apology , sought reconciliation and bid his time. But this isn't the time to dwell on paths not taken.
All who want corruption stamped out have warned about a fight against corruption that would be trivialized by selectivity, vindictiveness and vendetta. But none can expect a war that would not be used to settle one or two personal scores. Igbos say that the flutist must have the privilege of clearing his nose but shouldn't the criminal justice structures be far too sacred for such private advantages?
When the Code of conduct tribunal released the charges against Saraki some days ago, that which many had long feared , came to haunt the anti corruption war. Saraki wasted no time in declaring that he was targeted maliciously. He claimed the charges were frivolous. But he didn't stop there.
Since all now want to be seen as apostles of the new religion, he went further to claim that his victimization was in response to his determination to stamp out corruption. The circus has truly begun. The predator can quickly become the prey. He may need to ask one or two of his fellow former governors a thing or two about securing a perpetual injunction against criminal investigation and prosecution.
"Corruption fights back" he proclaimed. Interesting. When the EFCC summoned his wife, Saraki dismissed the invitation as persecution. Then he, the persecuted, a few weeks after , sought to have the EFCC chairman answer to allegations of embezzlement of monies the agency had recovered dating many years back. Saraki's predatory instincts did not allow him to appreciate that his own actions could be read as retaliatory , vindictive.
Saraki obviously knows his detractors more than we do. So when the senate that is yet to settle announced the commencement of an investigation into the power sector looking as far back as the Obasanjo era, some insinuated that the net was being cast further and wider for reasons beyond the anti corruption motivations. Since anti corruption has become the sledgehammer, survival may lie in the mastery of its application. Shouldn't Nigerians know how billions of dollars got flushed down the electricity drain pipe? Sometimes, to defend, you have to attack. Witch-hunting isn't that bad, you know.
It is difficult to disregard suggestions that Saraki is a marked man for obvious reasons. He says he suffers because he is the senate president. No one doubts that . No member of a ruling party in Africa will be sought by a multiplicity of anti corruption agencies for any reason other than perceived treachery .
No one who understands how things work in third world countries would consider Saraki , a veteran of many complicated commercial transactions , a difficult take for anyone who controls the criminal justice process. So many wondered why he chose his particular strategy and stuck to it defiantly. If it is truly all about 2019, then he showed his hand a bit too early
The CCB has charged Saraki. The die is cast. It is unfortunate that the EFCC and CCB are being accused of being used to hound any Nigerian. The sequence of events, a certain choreography, invites that suspicion. It would be sacrilegious if , when being so used, they have to engage in frivolous persecutory and vexatious prosecutions wasting tax payers funds and morally crippling an already weakened criminal justice system.
The tribunal judges however must acquit Saraki except if the evidence presented before them proves beyond all reasonable doubt that he committed the offences for which he has been charged. In light of the circumstances surrounding the Saraki saga, the senate should retain Saraki as senate president until he is found guilty. A citizen facing a criminal prosecution must be considered and must remain innocent until a court of competent jurisdiction finds otherwise.
It would amount to gross abuse of executive powers if a prosecuting agency can remove the head of the legislature by simply preferring charges against him. However, in saner climes, a man would in search of honour, resign from a position of public trust if the moral weight of the allegations against him would impair the smooth functioning of the organization he heads. Saraki, however, in alleging bias and malice, deflects sufficiently such moral considerations and can retain his seat until the courts decide.
But now that Saraki is under the criminal searchlight he must desist from actions that could suggest that he is intent on obstructing justice directly or indirectly. Consequently any probes of the EFCC or CCB by the legislature must wait until he has been acquitted or convicted. A retaliatory probe of these institutions in response to these investigations can only be viewed as truly fighting back. The oversight function of the legislature is a weighty public responsibility and cannot be crafted into a self serving tool employed at whim to impede the wheels of justice.
While vindictiveness may damage the anti corruption war, the public must not be distracted by a preoccupation with mawkish sentimentality. Any past or present public officer charged for any offence bordering on corruption or stealing must go before the court and render proper accounts. Politics entails finding the flaws and hidden skeletons in the cupboards of opponents and exposing them.
If that is witch hunting , then it is perhaps a patriotic duty. It is good that the CCB went back many years to make a case against Saraki. The CCB's watchman's duty necessarily involves such historical re-assessments and archeological excavations of past declarations. But wouldn't it be better if it was holistic?
Is it perhaps unrealistic to expect independence and absolute neutrality from these agencies we haven't managed to transform into proper institutions? The truth is that these institutions are in their infancy, and must go through teething and toilet training. They will get better. But they must, even while learning the ropes, inspire some public confidence. Every case , like the Saraki case, educates the public and increases awareness and hopefully accountability.
Criminal trials of high profile political office holders should only generate concern and worry if they serve to decimate the opposition and entrench a one party rule. At some point we must all learn to detach ourselves from emotions , sentiments and political pornography and focus on guilt and innocence, on objective facts and procedures. The ultimate benefit to poor Nigerians of these criminal trials must be the enthronement of good governance founded on the rule of law.