By Evelyn Usman & Ebere Aham
LAGOS—THE Deputy Managing Director of The Sun Newspaper, Mr Steve Nwosu, whose wife was abducted Monday, by gunmen who raided his Ago residence, Lagos, yesterday, appealed to her abductors to release her to his family.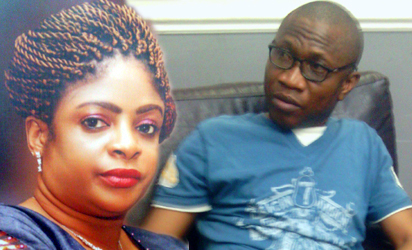 This is just as he has stated that he did not have the N100 million demanded as ransom for his wife, Toyin's release, reminding the abductors that he was only a journalist.
Distraught Nwosu, who was visibly weak to speak when he returned to meet his visitors, said in an emotion laden tone as he took his seat: "I cannot imagine what my wife is passing through now. As you can see, I have been running from pillar to post to see how I can pay the ransom so that my wife will be released to me and our children. The abductors are yet to change their stance on the N100 million ransom for her release. God knows that I do not have such money. I just want my wife back in one piece.
However, Vanguard was reliably informed that the abductors were still in contact with the distraught journalist, insisting that the 100 million ransom be paid before the release of Mrs Toyin Nwosu. Sources also disclosed that the abductors warned that discussions with them should not be revealed to security operatives.
One of the senior journalists who visited Nwosu's home yesterday and spoke on condition of anonymity, wondered where Nwosu would get such amount as a journalist, appealing to the abductors to consider the trauma the family had been going through since the abduction of their loved one.