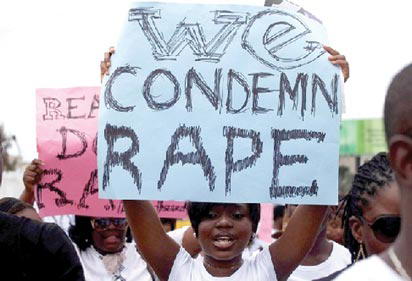 Nigerians and residents in Lagos indeed have continued to express serious concerns over rising cases of female assaults, especially rape cases.  Therefore, the Counselling Ambassadors Organisation, a  Non-Government Organisation (NGO) has called for strict enforcement of laws dealing with cases of rape in the country in order to stem the tide as well as serve as deterrent to others.
The organisation which gave the advise at a programme it organised tagged "Transfiguration experience: Let's talk it and pray it", designed to look at incessant rape cases in the society held at Ikeja, stressed that the strict enforcement of the law on rape will serve as deterrent to rapists.
According to the Founder and President of the organisation, Mr. Regina Obasa, the prevalence of rape cases all over especially with fathers and uncles raping their own children necessitated the holding of the event, "to talk about it, pray about it, find solutions and way of preventing it."
"We also need to pray against it because it is assuming a bizarre dimension where even fathers have to be raping their children and this we believe have a spiritual dimension. That is why we don't want to just talk about it but also to pray against it, because it is only God that can remove this demonic tendency", she said.
Obasa who has been counselling rape victims with track record of success leading so many out of depression and suicide tendencies, called for more counselling centres like the Mirabel Center in Lagos State University Teaching Hospital, to help rape victims, suggesting that it could be in form of partnership with the government.
One of the discussants, Barr. Adetokunboh Mumuni, an ex-director of SERAP, said though there are laws in the criminal code against attempted rape and rape, the problem with the law is that the accusation of rape must be corroborated by a witness.
Mumuni  wondered why despite the  reported cases of rape on a daily basis running to about 12,000 cases in a year not even one perpetrator has been  jailed. "Some of us are even hiding some of these cases. It is our conspiracy that makes those who should go to prison to walk freely", he said.
According to Prof. Cecilia Oladapo of Education Faculty, University of Lagos, "Something is definitely wrong because rape is not only by outsiders but insiders also do it. Fathers and uncles rape their children/wards."
Prof. Oladapo advised parents to desist from the habit of dropping their children in hostels. "Mothers should stay put with their children, women should create more time for their children; when your children ask you questions answer them. Don't put them off and don't allow your driver to drive your children around", she advised.
She also advocated for sex education from an early age so as to create awareness of the implication of some actions that can eventually lead to rape thereby preventing such.
A medical practitioner, Dr. Oladapo Ashiyanbi advised rape victims to go to the hospital immediately after the experience so as to, among other things, get evidence to prosecute the rapist "because after 72 hours, evidence necessary to prosecute the perpetrator may be lost."