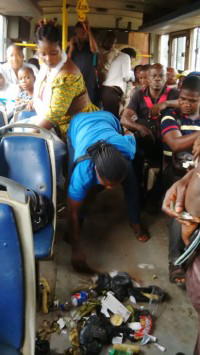 The LAGBUS sweeper in action
While growing up, we were told never to sweep the house whenever a guest is around. We were also told that doing so was improper, as it signifies that the guest is not welcomed or had overstayed his or her welcome.
However, on Wednesday afternoon, an Igbogbo/Ikorodu – Maryland-bound BRT bus was thrown into commotion, as a female personnel of the LAGBUS (name and code number withheld), dramatically swept the bus with passengers on board.
This ill-mannered action almost resulted into a fracas when the bus got to the Zumratul junction, Igbogbo, Ikorodu, Lagos, as many of the passengers protested the apparent untidiness of the bus.
See photo: