By Egufe Yafugborhi
WARRI – The Olu designate of Warri kingdom, Prince Godfrey Ikenwole Abiloye Emiko has gone into seclusion following his selection to become the 20th Olu on the throne.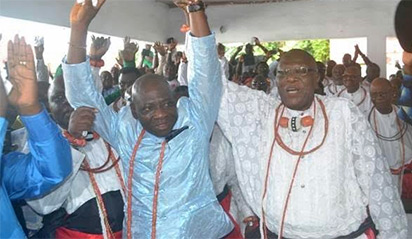 Secretary, Itsekiri Leaders of Thought, ILT, Mr. Edward Ekpoko, while explaining the implication of Olu in waiting's action in Warri, Delta state said yesterday that it is in line with the tradition of the land.
Ekpoko, who is also Chairman, Warri Study Group said, "I have been bombarded with media enquiries to meet Abiloye since he was chosen Saturday. The simple response is that he cannot be reached until passage rites of HRM, Atuwatse II, his predecessor are concluded.
"It is at that point within the next 90 days that his coronation commences that he comes out of seclusion. In his absence Prince Eroro Emiko, Olori-Ebi (Head) of the royal family assumes regent of the kingdom. He will start receiving visitors coming into the royal family in due course."
Ekpoko also clarified that Chief Yaya Pessu, Ojomo of Warri kingdom who took the role of Ologbotsere when he broke news of the passage of HRM, Atuwatse II and announced his successor in one breath was not a chief priest.
"Neither the Ojomo or Ologbotsere is Chief Priest. Also note that the last Ologbotsere of Warri kingdom was Chief Ogbemi Newe Rewane and not his sibling, Alfred Rewane as reflected in some reports", he further clarified.