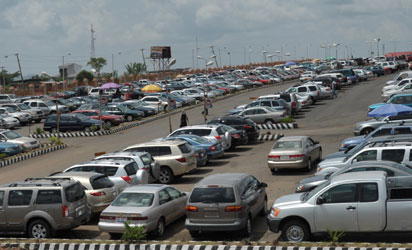 A cross section of dealers
By Jonah Nwokpoku
A survey conducted by online vehicle marketplace, Carmudi.com has revealed that more Nigerians are increasingly searching for saloon cars to buy.
The survey showed that Nigeria has the highest percentage (55 percent) of those searching for saloon cars to buy online within Africa.
The survey which also featured opinion sampling of car owners showed that seven out of every ten Nigerians prefer to drive saloon cars.
This is even as a study by the Lagos State government showed that new saloon car registration is on yearly increase as 218,528 or 84.22 per cent of the total vehicles registered in the year 2011 were saloon cars representing an increase of 30,013 or 15.92 per cent compared with 2010 figure which was 188,515.
In a statement, Carmudi said it believes this trend portends a vibrant market for saloon cars and that local auto makers should pay more attention to this trend to drive auto sales in the country.
It recalled that Nigeria's first automaker, Innoson Vehicle Manufacturing had followed this trend and made history late in November 2014 when it built 500 vehicles, including the Umu sedan at its local plant.
According to Carmudi, saloon cars has remained a popular brand across most emerging markets as its data revealed that car buyers in Asia browsed most for saloon cars, particularly in Myanmar, Sri Lanka, Bangladesh, Pakistan, and Indonesia where 59, 57, 51, 50, and 38 per cents respectively are searching for saloon cars to buy.
It however noted that, "While it is unlikely that motorists in Asia will completely turn their backs on saloon cars, the slow but apparent shift towards SUVs is taking place, notably in the Philippines, where 25 per cent of Carmudi visitors are browsing for SUVs, compared with 19 per cent of users browsing for saloon cars."
It further explained that, "The Middle East is close to the saloon cars to SUV tipping point, which was seen in the US only a few years ago. In the United Arab Emirate, 39 per cent of car buyers browsed saloon cars, compared to 33 per cent of users who browsed large-size vehicles such as the estate, crossover, SUV and vans or minibuses. In Qatar, almost 40 per cent of car buyers browsed for salon cars, while 37 per cent browsed for large-size vehicles. Saudi Arabia is leading the SUV charge with 37 per cent of users browsing for SUVs, compared to 30 per cent interested in saloon cars."