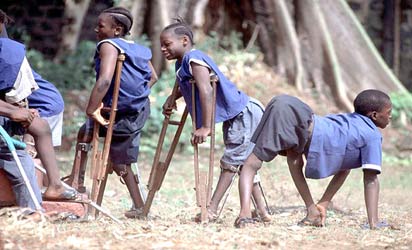 Polio kids victims
These are great times for Nigeria…a situation I have always hoped for. I always was confident that my country will reach this stage.
This is an important milestone for Nigeria, although it took so long to reach. We still have a major milestone to remain polio free for two years more so as to be declared polio free, not just removal from list of polio endemic countries.
These two years will be tough, but we are poised to overcome any challenges to achieve polio free status by 2017. We must move our surveillance to a higher level of alert, our response to any polio case (if any) must be rapid, focused and complete; our government must continue to have the will and the commitment to see NO Nigerian child come down with polio EVER AGAIN.
Our traditional and community leaders must be fully engaged and involved in not only polio eradication but ensuring that every Nigerian child is protected from any vaccine preventable diseases.
Finally we must be experts at communicating with our people on the need to get their children vaccinated and take advantage of health interventions provided by government and had confidence.
I am a particularly delighted Nigerian today. In 1995, during the World Health Organisation Day lecture, I titled my lecture "Will Nigeria Be The Last To Eradicate Polio? That day 20 years ago, I looked into the future and hinged hope in my country that we will not be the last.