By Ayo Onikoyi
Her name is Joke Jigan but many call her Bisola Beyonce because of her blockbuster film that shot her into limelight. Joke is pretty, with just about everything in the right proportions. She's easy on the eyes and has a look that she may fall asleep on your laps any moment. Some have described her eyes as unnatural, with some even claiming they could put a bet that she has contact lenses in them.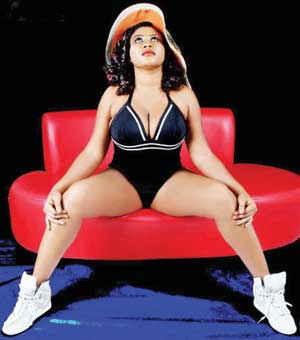 But she is as natural as they come. Also of big buzz is the robust, provocative twin towers on her chest, that seem to be asking some questions perennially. In her recent chat with Potpourri, the fair-skinned actress shared with us what she would consider the most romantic experience of her life.
"That should be my last year birthday. When I got a puppy from my man and a huge cake. I was so surprised because he had called me a night before, that he was traveling, that he wouldn't be around for my birthday.
But I woke up to a knock at my door and it was raining and I saw him really soaked with the cake and the puppy was in a basket.
I was freaking shocked and I screamed and later that night after my party we went for a dinner somewhere, it was just the two of us and I woke up the next morning to the aroma of the best Singapore noodles ever" she gushed
Joke Jigan is a popular Yoruba actress that is making wave in the industry. She has produced almost a score of her own movies, including Bisola Beyonce, Oyinkansola, Idoti, Ikoko, Ihoho Mi, Olote,  Kogbodomo and others.